Mad in Pursuit Notebook
Today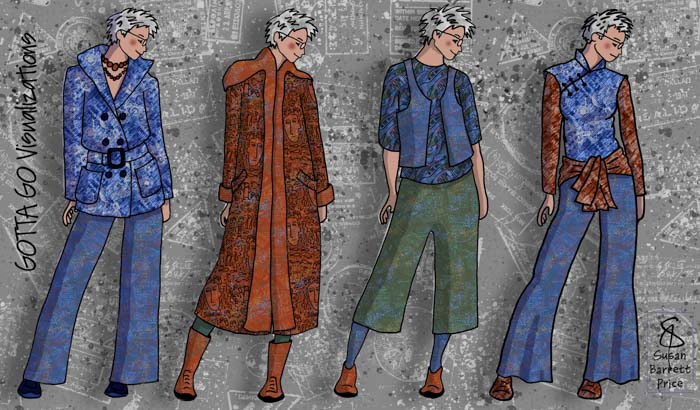 16th Annual Art-Life Review, 2019
Dec. 31, 2019 (but really Jan 2, 2020). Real life got in the way of my annual day of reflection on New Year's Eve, but I can't lean into 2020 without thinking about what revved up my curiosity in 2019.
Visual arts
Printed Fabric Challenge: to learn "surface pattern design" as a way to exercise multiple skills and to produce my own line of printed fabric. I was all in, entering weekly Spoonflower challenges and taking courses at the Textile Design Lab, through April. (Results on Spoonflower and at Adobe Portfolio.) Learned: ¶ Designing fashion fabrics inspired by the fine arts engaged me more than home decor. ¶ I definitely have my own voice, but it is not mainstream. But when has lack of popularity ever gotten me down? ¶ The activity I loved the most was dressing my "paper doll" mockups in my new patterns. ¶ My technical skills are excellent. ¶ Keeping a sketchbook is a must. The best stuff came from my archive of drawings and doodles.
Art Fabric Challenge: to get more control over the color of dyes, more control over specific motifs, and more depth to the overall result. During the second half of the year, I was all about mixing procion dyes, my indigo pot, experiments with resists and decolorants, oil paint sticks, fabric paint, and carving rubber stamps. Learned: ¶ Finally got the hang of carving designs that work with fabric and used them with both paints (as stamps) and oil sticks (as rubbing plates). ¶ Achieved some mastery with soy wax batik and that's now my favorite resist. Still figuring out decolorants. ¶ Mixing dye colors is hard. Indigo is still the most fun. ¶ My favorite motifs involve little human characters. ¶ I achieved the most depth so far by working with oil sticks on previously hand-dyed fabric.
Sewing Challenge: to make some garments for myself. Well, I managed to shorten the hem of an old pair of corduroy slacks... Finally, in December, I sat down at the machine for re-learning and small non-garment projects. Learned: ¶ I enjoyed resurrecting old skills, problem-solving, and making a few useful things. (Results)
Dollmaking Challenge: to continue exploring this complex art form. But I continued to get sidetracked. Cleaning out Jim's sock drawer did inspire me to make a sockdoll for my grand-niece and I was very pleased with the result--a challenge to stay simple!
Writing
Marketing Challenge: to market my books. Tried to set up a regular system of discounts on Amazon and get a little book presence on Instagram. Learned: ¶ I continue to be terrible at this.
"Just Write" Challenge: to reinvigorate my personal essay writing. Longing for the golden age of Mad in Pursuit entries (which became the basis for radio productions and two books), I started Wine Poured. I hoped short, punchy entries, easy to post, might exercise my writing muscles and get my Facebook friends to click in. Learned: ¶ "Technically simple" just means I get totally frustrated with the lack of control over the layout and keep changing the Wordpress theme. My hope was that the mini-essays would be more searchable and have more flow, but... ugh. ¶ I certainly didn't write more. And half of what I posted amounts to lake photos with a paragraph "caption." Easier to slap a photo up on Facebook. ¶ I didn't work very hard on gaining a following beyond a few faithfuls.
Essay-Writing Challenge: to parlay "just write" drafts into better researched and more entertaining reads on a platform with a bigger audience. During May-June, I polished up some work for Medium. Got sparkles of interest and hints that this approach might work. Learned: ¶ I dropped the ball. Summer came. Writing is harder than gardening and indigo dyeing.
Collections and archiving
Culling Challenge: to find good homes for collectibles that no longer "spark joy." Accomplished: ¶ Thanks to meeting up with a local dealer and finding a good auction house, several more boxes of stuff went out the door.
Family History Challenge: More cousins and Ballaghduff descendants found my Dunne family Facebook group and more cousins contributed photos and information. My archives were all over the place and getting outdated. I created the Old Green River family history blog to allow for easier and faster postings. Learned: ¶ Putting together timelines (esp. with photos, documents, and news clippings) is one of my favorite family history activities. ¶ Not sure the Wordpress platform for Old Green River is accomplishing what I want. (Same issues as with Wine Poured, above.) ¶ Figured out how to use Family Tree Maker software to better advantage in maintaining an archive. ¶ Still searching for best way to corral information without losing my mind.
2018 Review | 2017 Review | 2016 Review | 2015 Review | 2014 Review | 2013 Review | 2012 Review | 2011 Review | 2010 Review | 2009 Review | 2008 Review | 2007 Review | 2006 Review | 2005 Review | 2004 Review
***
---
HEADLONG: Over the Edge in Pakistan and China (2018) Traveler's tale of a 1992 adventure. A poorly planned roadtrip takes long-time lovers Susan and Jim to forbidden places and lost times. Kindle.
THE SUDDEN SILENCE: A Tale of Suspense and Found Treasure (2015) Thailand: lovers of ancient treasure tangle with international black markets. Delia Rivera pulls Martin Moon back into the game and their quest turns deadly. In paperback and Kindle editions.
TRIBE OF THE BREAKAWAY BEADS: Book of Exits and Fresh Starts (2011) Time after time, Mary asks herself: Do I go or do I stay? She finds her power in her ancestors: Smart women turn discontent into action. An illustrated memoir in paperback and Kindle editions.
PASSION AND PERIL ON THE SILK ROAD: A Thriller in Pakistan and China (2008) The twin forces of revenge and redemption drive Nellie MacKenzie and Taylor Jackson on a crazed adventure into the heart of Central Asia. They grapple with issues of ethics, trust, rage, and bitter heartbreak -- as well as the intrigue of the international antiquities trade. In paperback and Kindle editions.
Connect:

All pages in this website by Susan Barrett Price are licensed under a Creative Commons Attribution-Noncommercial-Share Alike 3.0 United States License. [The snowstorm image at the top of this page came from Wikipedia, under a Creative Commons license.]