Mad in Pursuit Notebook
Today
"Red" Project: Quilt as Learning Landscape
Mar 28, 2016. [Cont'd from 4.3.2015] It's finished! My crazy stitching project that wound up as a quilt... or as I prefer thinking of it, my magic cloak. The project began in October 2014, when I decided to dye some assorted fabric (including a batik experiment) to take with me on a roadtrip to Santa Fe. Was there such a thing as a journal on cloth?
In Santa Fe, I began "Magda, The Thunder Parrot," inspired by the landscape and the local arts, as well as by the magical and whimsical creations at the International Folk Art Museum. I was in a freeform zone, without a plan, trying to be present to the place.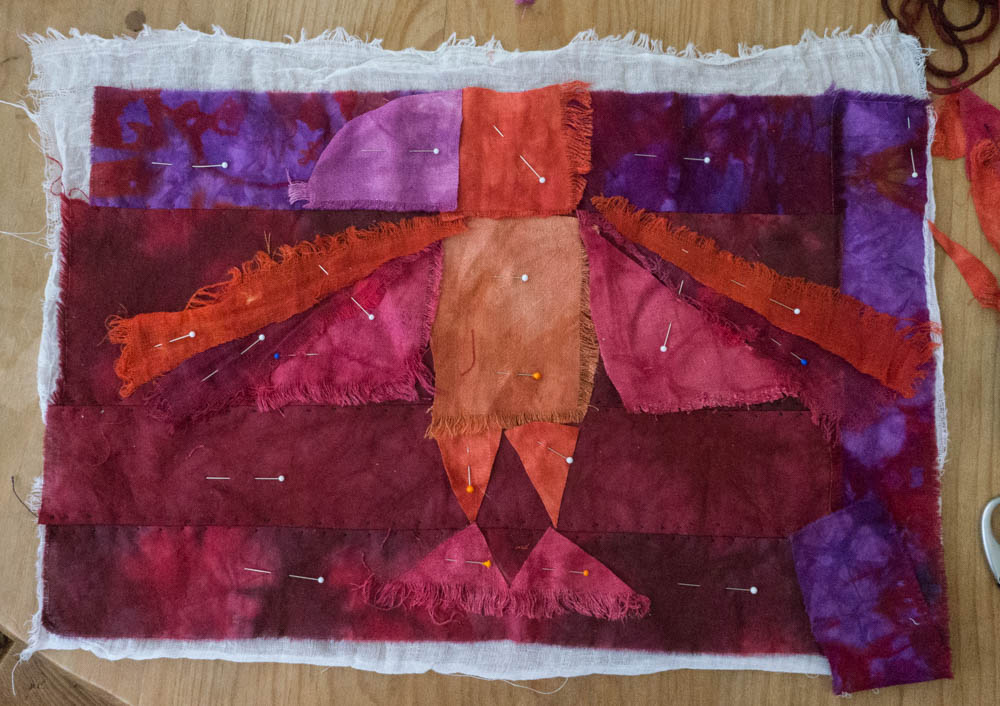 When I got home to Rochester, I kept on stitching. Adding to my beginner skillbase in embroidery and applique, I took an online course in cloth weaving. And I learned to print photos on cloth. In November, I had many bits and pieces to ponder and figured out that I had a "red project" in the making. It actually took me till January to decide to turn it into something real -- a luscious shawl to wrap myself in. The project became massive. It was a quilt (patchwork top, inner lining, and backing), but was proceeding all the wrong way, the top being organically basted to the harem cloth lining as I went, piecing on the bias, no less. The project grew and took on philosophical complications. I began the quilting process before I finished the piecing -- crazy!
Then... a disruption. We suddenly bought a cabin on Lake Ontario and spent the summer discovering gardening by the sea. When the weather finally cooled and our social season wound down, I dug out my Red Project, anxious to find out whether or not I still had the stitching bug. Yikes, I had only the hard parts left -- thinking, planning, finishing. And so I did.
And I continued quilting the whole thing by hand, using double strands of embroidery thread, in rows 1/4 to 1/2 inch apart.
I was going to fringe the edges, but duh... all my patches were laid out on the bias... nothing would fray. So I turned over the backing fabric and bound the edge.
When I go to quilt shows, I always appreciated the traditional quilts more than the "art" quilts. And when I see that prize-winning quilts have taken someone more than a year to make, I tell myself, "That's crazy!" But as I finished this 18-month art quilt of mine, I realized it wasn't so much a "quilt" as "learning landscape," a record of all the textile techiques I'd picked up. A journal in stitches. Yes, there was such a thing.
We hear the cliches: it's the process, not the product; it's the journey, not the destination. So now I've realized, through my hands, tthat I can sustain the long haul, as long as I am learning, experimenting, and problem-solving along the way.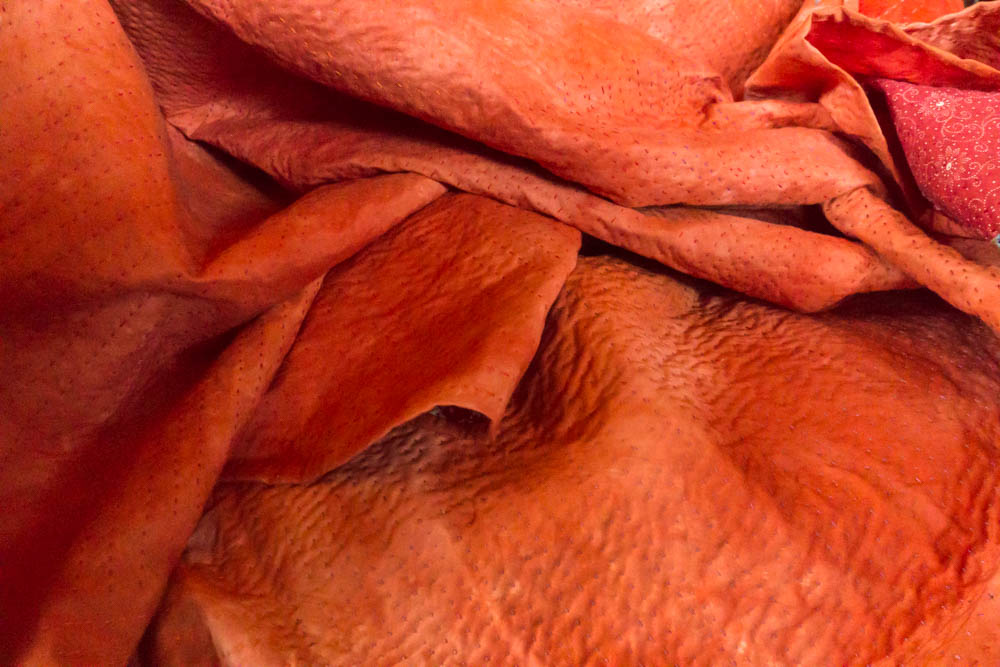 ***
---
Books by Susan Barrett Price:
THE SUDDEN SILENCE: A Tale of Suspense and Found Treasure (2015) Thailand: lovers of ancient treasure tangle with international black markets. Delia Rivera pulls Martin Moon back into the game and their quest turns deadly. In paperback and Kindle editions.
TRIBE OF THE BREAKAWAY BEADS: Book of Exits and Fresh Starts (2011) Time after time, Mary asks herself: Do I go or do I stay? She finds her power in her ancestors: Smart women turn discontent into action. An illustrated memoir in paperback and Kindle editions.
PASSION AND PERIL ON THE SILK ROAD: A Thriller in Pakistan and China (2008) The twin forces of revenge and redemption drive Nellie MacKenzie and Taylor Jackson on a crazed adventure into the heart of Central Asia. They grapple with issues of ethics, trust, rage, and bitter heartbreak -- as well as the intrigue of the international antiquities trade. In paperback and Kindle editions.
Connect:

All pages in this website by Susan Barrett Price are licensed under a Creative Commons Attribution-Noncommercial-Share Alike 3.0 United States License. [The snowstorm image at the top of this page came from Wikipedia, under a Creative Commons license.]