Mad in Pursuit Notebook
Today
Earth Cloth: Dried Plants from Winter Garden
Mar 7, 2016. I couldn't wait till the greening of spring. Before my late winter pruning cuts everything down, I thought that the dried remains of last summer might be good for something.
Materials
dried out plants from the garden: cone flowers, pink cedum, oregano
2 Flour-sack towels (28" x 28"), prepared by washing with blue Dawn and 1/2 c. washing soda in hot water
iron water (see below)
copper water (see below)
stick, wrapped with 14 guage copper wire (see photo)
steamer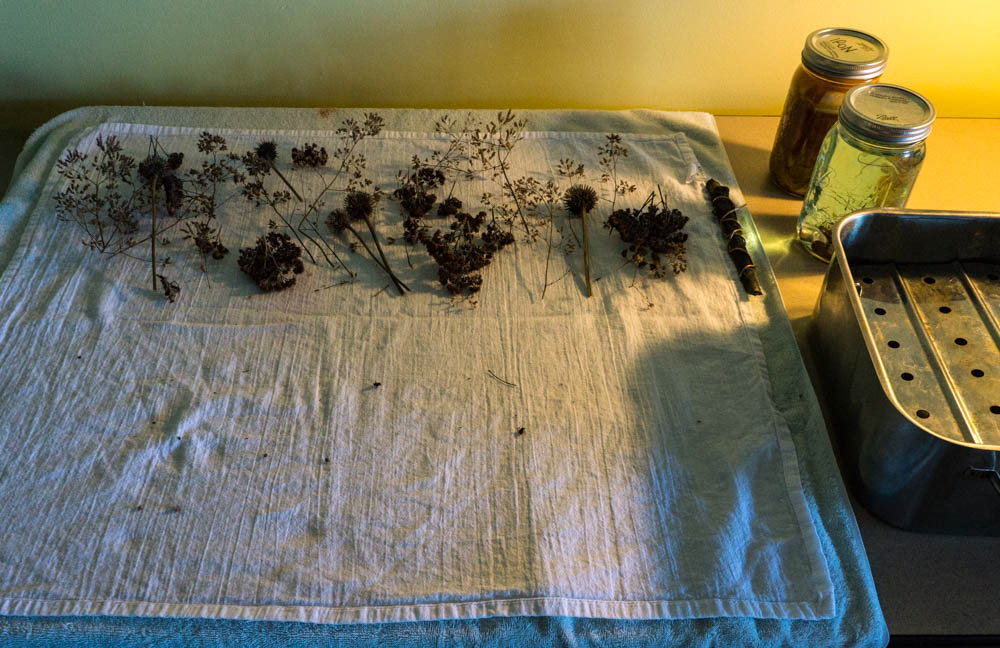 Process
Stuffed one towel into my jar of iron water to create an "iron blanket," with the purpose of darkening the colors.
Laid out one towel and distributed the dried plant material over the top half. Dipped a small sponge into my copper water and dribbled it over the plant material. Copper is usually used to create or enhance green tones in natural dyestuff.
Folded up the lower half and dribble a little more copper liquid on the spread.
Note: it was here that I realized that the round, prickly, hard cone-flower deadheads were wrong for this project. They were not going to smash into the fabric. I used a few anyway.
Wrung out my iron blanket, folded it in half, and laid it on top of the botanicals.
Folded all layers in half again (longwise).
Rolled the sandwich of cloth plus botanicals tightly around my copper-wrapped stick.
Steamed the bundle for about 3-1/2 hours, then let it sit (covered) overnight (about 12 hrs. -- see photo below). The oregano provided a heavenly fragrance to this part.
Unwrapped the damp cloth, shook out the plant material, hung to dry.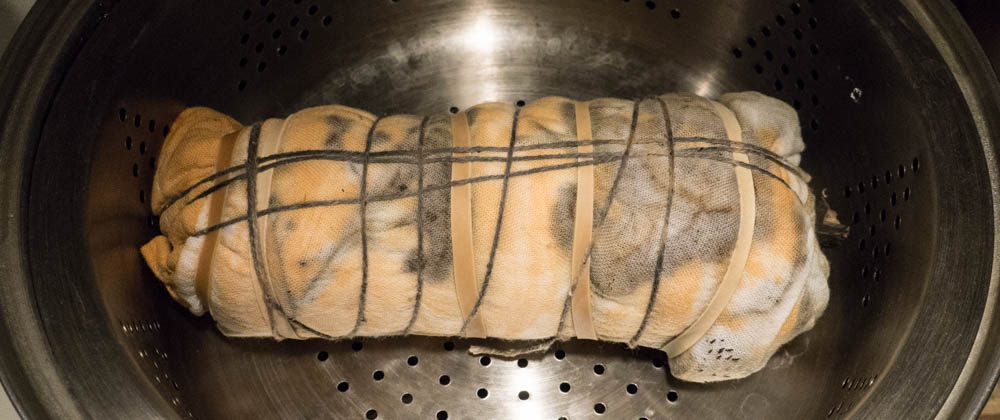 Results
The total surprise was the development of a tomato-y orange color. As expected, the iron blanket made the plant imprints a purplish gray, which bled back into the iron blanket. But there was orange in between. And the iron blanket turned orange too. Which magical plant did this?
I finally deduced that the copper did it. Where the copper wire directly touched fabric, the threads turned orange. This defies my understanding. In the interest of science, I think I'll try this again. I love a mystery.
NOTES
Iron water. Combine in a jar: a few rusty found objects, like nails, washers, etc. and a solution of 2 parts water, 1 part white vinegar. Close the jar and let it sit for a couple weeks till a rusty-orange color appears. It can be kept indefinitely, used and reused.(from Sasha Duerr, The Handbook of Natural Plant Dyes)
Copper water. Same idea as iron water, except use copper findings and wire and 1 part water to 1 part vinegar. The broth will turn blue-greenish after it has brewed for a while. (from Jenny Dean, Wild Color, who also gives above recipe for iron water)
***
---
Books by Susan Barrett Price:
THE SUDDEN SILENCE: A Tale of Suspense and Found Treasure (2015) Thailand: lovers of ancient treasure tangle with international black markets. Delia Rivera pulls Martin Moon back into the game and their quest turns deadly. In paperback and Kindle editions.
TRIBE OF THE BREAKAWAY BEADS: Book of Exits and Fresh Starts (2011) Time after time, Mary asks herself: Do I go or do I stay? She finds her power in her ancestors: Smart women turn discontent into action. An illustrated memoir in paperback and Kindle editions.
PASSION AND PERIL ON THE SILK ROAD: A Thriller in Pakistan and China (2008) The twin forces of revenge and redemption drive Nellie MacKenzie and Taylor Jackson on a crazed adventure into the heart of Central Asia. They grapple with issues of ethics, trust, rage, and bitter heartbreak -- as well as the intrigue of the international antiquities trade. In paperback and Kindle editions.
Connect:

All pages in this website by Susan Barrett Price are licensed under a Creative Commons Attribution-Noncommercial-Share Alike 3.0 United States License. [The snowstorm image at the top of this page came from Wikipedia, under a Creative Commons license.]