mad in pursuit notebook
DISPATCHED FROM THE CROSSROADS
Where Have I Been? What Have I Done? What Next?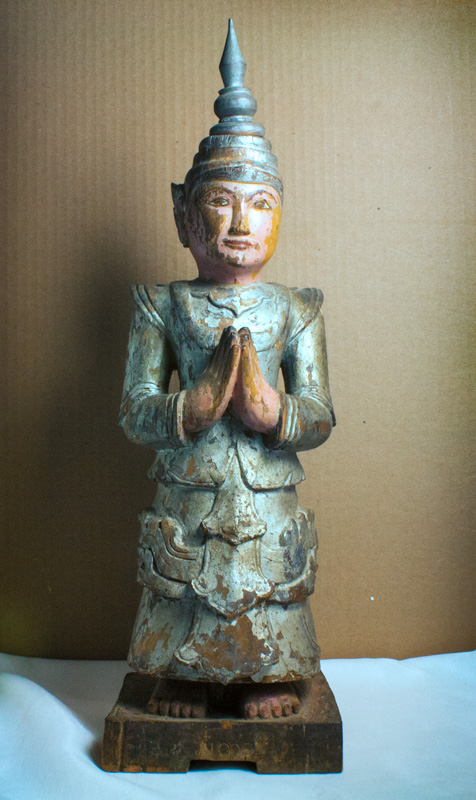 Aug 5-Aug 11, 2012. I bounced around from project to project this week: beads on my studio work table, Asian art photos and inventory in the kitchen. We have a beautiful Korean chest in the living room, where we have stored piles of old photographs, but it has begun to break down under the weight, so we moved all the photos upstairs (another project... where do they go now?). We shored up the bottom shelf of the chest and began to move other, more light-weight items inside it. Busy, busy. But this morning I'm kind of hung over -- way too much to eat and drink last night with friends -- but the good conversation outdoors on a perfect night made today's punishment worthwhile.
Engaging and Sharing (Creative and Curatorial Products)
Creative: storytelling. Didn't do a bit of work on my writing project.
Cataloging. Working on Asian art and being very slow about it. [Photo: a Thai sculpture, wooden, with chipped paint, about 20" tall]
Exploration and Capacity-Building
More on St. Therese bracelets.
I also had fun taking close-up shots of tiny agate beads from Africa. [Photo below]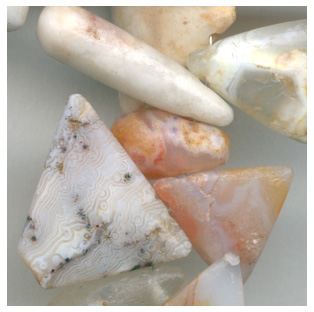 Infrastructure and workflow
My inventorying workflow is really shot to hell... going very slow and haltingly. At the same time, I'm realizing that we need a clear labeling system to keep straight the precious little items with easily forgetable origins. All in a day's work...
Deep Energizing
Sleeping, eating, exercising -- my regimen is all blown to hell. Next week I'll be good. [I said the exact same thing last week.]
Aug 12, 2012