mad in pursuit notebook
DISPATCHED FROM THE CROSSROADS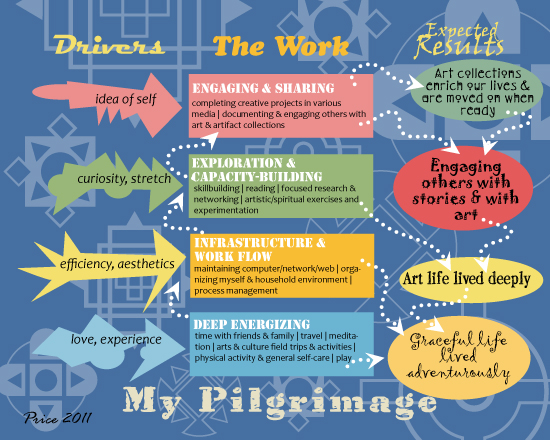 Thinking About 2012
Today is the day for resolutions -- turning over a new leaf in the big book of life. 2011 was a good year, so I don't think any radical redirection is needed. Nailed-down plans are a little boring at this stage in my life, so I want to leave lots of room for discovery and surprises. My "resolutions" below are more like the opening remarks in a conversation. I could tinker with this all day, but better to actually start moving forward.
Engaging and sharing
Entertainments
Rework THE UNDERGROUND ATHLETIC CLUB as a direct-to-ebook novel. No use keeping a two-year project gathering dust in a file drawer.
Sharing strategies for TRIBE OF THE BREAKAWAY BEADS and PASSION AND PERIL.
I really want to do some video/animation and some more radio, but (other than my Drum and Bugle Corps project), that path isn't clear.
More meditations on living with art. My review showed me that I got a good start this year, though the writing is pretty thin. I started building up my contents page, which is a baby step.
Blog -- needs to be reinvented, with a clearer public purpose.
More "Dot and Dash" cartoons?
Collections
More inventorying... finish Asia, tackle beads
Exploration and capacity-building
Photography: get back to honing my skills
Drawing/cartooning: practice
Writing exercises... maybe combine with blogging.
Need to be more organized about social networking among new people (Google+)
Continue reading and discussion program with Pat
Continue digging into family history -- to find the stories
Infrastructure and work-flow
(This category is usually driven by circumstances. All systems are running pretty smoothly at the moment.)
Continue using Toodledo for project management
Deep energizing
Travel! Jim! Friends and family!
Self-care: the usual... recalibrate the diet and exercise regimen so I don't feel like a sloth
Jan 1, 2012