mad in pursuit notebook
DISPATCHED FROM THE CROSSROADS
2 Weeks in Review, 5 November 2011
Oops, lost track of myself and missed a review week. Must have been last Saturday's excitement at bidding farewell to Tom McD and my Camry, along with post World Series discombobulation.
:: Projects
"Tribe of the Breakaway Beads" Project. It is a polished as it will ever be. I did the final format tweaking and handed it off to Sue Walker for proof-reading. Now I need to finish designing the cover.
Two week till Thanksgiving roadtrip, so I better get a few things done on my project list.
:: Infrastructure and Learning
Not procrastinating. Investment in future efficiency and productivity.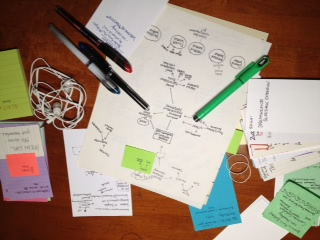 iPhone/iPad as portable workshops for note-taking, mind-mapping and outlining. Set up plain-text Notesy (with Elements as an alternative) in iPhone and iPad, to sync with \notes folder in DropBox. Both use the abbreviations you set up in the Text Expander app (also syncs across devices using Dropbox). Also updated my relationship with iThought (iPhone) and iThought HD (iPad) for mind-mapping; and Carbonfin Outliner for outlining. Also downloaded Trunk Notes, a personal wiki (also accesses Dropbox and Text Expander) -- but I'm more intimidated by the wiki lingo.
Also downloaded Windows beta of Scrivener, a popular Mac-based software package for organizing writing projects.
Listening for good advice on the best apps on Mac Power Users podcast.
Trying to refine my personal creative workflow.
:: Reading
Esoteric Christianity, or The Lesser Mysteries by Annie Besant (1847-1933) (Kindle Edition, free) Investigated a little about the author here.
Desire of the Everlasting Hills: The World Before and After Jesus by Thomas Cahill
Case for God by Karen Armstrong -- re-listening to Audible version while I do yoga.
Writing Down the Bones by Natalie Goldberg -- listening to Audible version while I do yoga.
Nov 5, 2011