mad in pursuit notebook
DISPATCHED FROM THE CROSSROADS
I Was A Drum Majorette!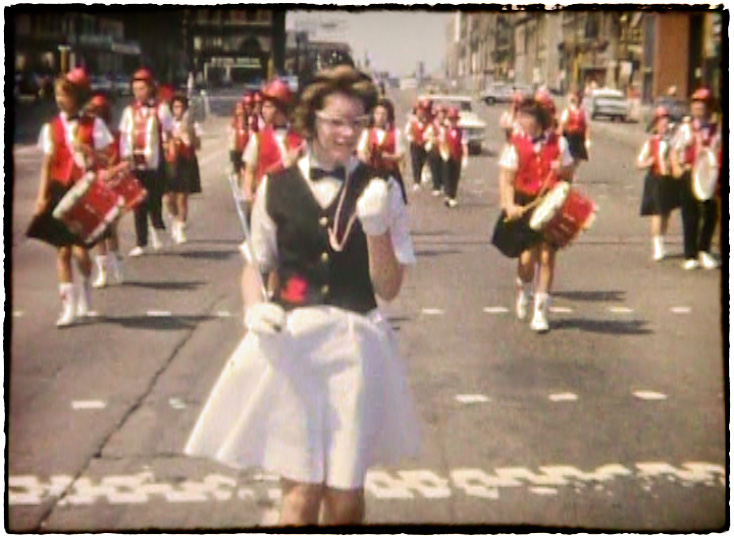 Can you believe it? Here I am, studying my whistle, wearing my white cat-eye glasses (1963 style), leading the Epiphany Toppers Drum and Bugle Corps in eighth grade.
I started out in sixth grade, when the drum and bugle corps was formed. I joined the color guard (a) because I wasn't "musical" and (b) because I admired my cousin Barbara, who was in the color guard for the St. Louis Colleens. Even though I was quickly promoted to carry the American flag, the color guard got no respect. The elites were the drummers (both my sisters became drummers) and the pom-pom girls.
When it came time to choose the eighth-grader who would be the next drum majorette, everyone was sure she would come from the ranks of the pom-poms girls because, gosh, they were the cutest and had all these great moves. But I — the humble flag-bearer — got asked to try out… and was chosen.
I could never quite figure it out. I just wasn't perky. I always suspected it was because the director Mrs. Lauman knew my mother and therefore could rely on me to show up. But, now that I think of it, I had to memorize all these routines and formations and keep everyone playing the same song, to the same beat (the youngest buglers were in second grade). I didn't have to do any perky baton-twirling, but I had to blow a mean whistle and use that baton for signaling the corps. So I wassmart, with an inkling of leadership ability. Mrs. Lauman must have had an eye for talent.
Mrs. Lauman had all these films from those days, which my mom volunteered me to turn into some kind of digital something. So, I'm looking at myself today… remembering all those grade school faces, wishing I'd been a little perkier, watching myself march down those muggy St. Louis summer streets so long ago.