mad in pursuit notebook
DISPATCHED FROM THE CROSSROADS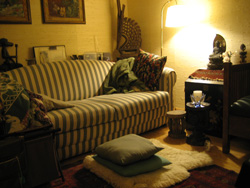 Enlightenment?
Okay, I finished my 40-day Winter Feast for the Soul: 40 minutes of early morning "spiritual practice," which became a combination of zazen meditation, journal scribbling, and drawing (see my pre-dawn corner to the right). My Top Ten conclusions:
(1) I don't know what "spiritual practice" is -- it feels like mental health practice.
(2) Coffee is essential. Otherwise, it becomes an extension of sleeping.
(3) It was successful, because I actually did it. I used to give up candy for Lent (a different 40 days), but never saw it through. I never completed a novena, or did the Nine First Fridays or even the Five First Saturdays.
(4) I went from feeling like crap to feeling pretty energized. But I started with a miserable cold, so maybe that doesn't count.
(5) I thought a lot about Order (Batman) vs Chaos (Joker). We want Batman to save us, but we have to face the Joker.
(6) In general, spending 40 minutes of disciplined quiet time at the beginning of the day gave me some tools for anxiety management: either embracing it head-on or letting it go.
(7) My Mad In Pursuit writing suffered because I have only so much time for navel-gazing.
(8) My best "flow" was achieved by drawing -- copying carpet and textile patterns. I enjoyed giving myself permission to simply "see" and reflect. I could be totally in the moment.
(9) I didn't do all the "spiritual" reading I'd planned. And I didn't listen to the guided meditations offered by the Winter Feast. Better to just DO IT.
(10) Somehow drawing patterns of African textiles catapulted me into inventorying and cataloging all our collections, which is definitely facing the Joker. Would I have gotten to this place without the 40-40? I don't know.
2.23.2009