DISPATCHED FROM THE CROSSROADS, AT THE INTERSECTION OF yesterday & tomorrow
mad in pursuit journal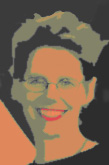 MANIFESTO: TELL STUNNING STORIES. Dial up the volume of my voice; take risks; make it impeccable.
Visit our STORE.
12.6.08: What I've Been Doing
Basked in narcissistic glory at finally getting my novel on the market...
...till I found a few typos -- sic transit gloria [glory fades]. But I remind myself of something I read: the Navahos have a tradition of never quite completing anything, whether a basket, a blanket, a story or a song. They don't want their creations to be too perfect. Perfection cramps the spirit of the creator. Little gaps and imperfections -- "spirit outlets" -- keep things alive for another day. So, my book is definitely still alive.
I am proof-reading it (yawn) one more time in preparation for a Kindle edition (& probably a corrected Second Edition for print). I'm also tweaking a sentence here and there. My prose is not always the most elegant, but if I were a perfectionist this baby would have never seen the light of day.
Sold two copies -- one through my e-store and one through the vast mechanism of amazon.com. On the one hand I'm saying "I don't care if it sells" and on the other hand I'm working on my marketing plan (mostly for after the new year). Of course I care!
Also got to work on the next book project. This project is at the difficult stage of needing thoughtfulness and creativity (grunting and grinding). Tried to get some traction on an audio project, but that needs a little rest.
Went out to a wine bar last night with Joanne and Alison. Told them about the dream I had where I cut off my head (very, very carefully) and was carrying it around with me till I panicked that I wouldn't be able to get it back on (like I wouldn't be able to get the edges to seal up right). They were laughing at my "braininess" anyway and told me that taking my head off now and then was probably a good idea.
<<<Last Update | Next Update>>>