DISPATCHED FROM THE CROSSROADS, AT THE INTERSECTION OF yesterday & tomorrow
mad in pursuit journal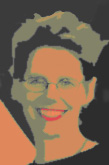 MANIFESTO: TELL STUNNING STORIES. Dial up the volume of my voice; take risks; make it impeccable.
Visit our STORE.
11.29.08: What I've Been Doing
Gosh, the world has become a fast place.
Last week at this time I was still tweaking my manuscript and tinkering with my book cover. Today I have the printed novel in hand and an e-store open for business. I'm dazzled.
Radio. While I'm basking in Being A Novelist, I can't forget where I started the year -- doing short radio stories.
I checked my messages at :Vocalo for October and November. Good month: the deejays there played 12 of my pieces (almost every one submitted this year!), including them in 30 different playlists (which get replayed on weekends and at other downtimes). I love those guys!
The Missouri Review (literary magazine published by Mizzou) is sponsoring an audio contest. I've had the paperwork on my desk, postponing entering. But they appreciate first-person narratives -- that would be me -- and the prize is $1000. The postmark deadline is Monday. I shilly-shallied and dilly-dallied. Finally today I made the CDs and sent in my 3 entries. Don't know how "literary" I am, but you can't win unless you play.
Otherwise, a quiet week... got a flu shot... downloaded a Toni Morrison audio novel to give me an incentive to walk. Trying to stick to my regimen of 20 minutes of Zen meditation every day. Made a little cash on ebay. Cooked.
<<<Last Update | Next Update>>>