mad in pursuit notebook
DISPATCHED FROM THE CROSSROADS
What next?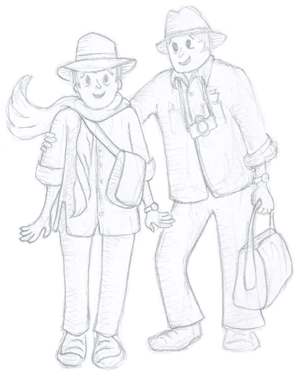 While we're waiting for the proof copy of "Passion & Peril" to arrive, I'm wondering what next.
After spending so many days with the novel, we dug out the photo album, then dug out the essays I wrote so long ago and "published" here on Mad. Of all my travel journals, this is the best. The writing is pretty good and the adventures were totally through the Looking Glass.
I wouldn't mind spiffing this up and doing another self-publishing project, this time a traveler's tale, a memoir.
Dilemma: do I produce a compact little narrative that someone can throw into a briefcase and take on the road OR do I go all out with photos, drawings, etc? An artistic book would be a labor of love (because it would wind up being neither a size nor price attractive to buyers of travel narratives). A straight narrative might actually sell a few copies. Or I could do both -- a Standard and Deluxe editions. It only costs my time.
11.27.2008