DISPATCHED FROM THE CROSSROADS, AT THE INTERSECTION OF yesterday & tomorrow
mad in pursuit journal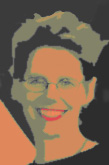 MANIFESTO: TELL STUNNING STORIES. Dial up the volume of my voice; take risks; make it impeccable.
Visit our STORE.
11.22.08: What I've Been Doing
I'm really going to do it. I'm really going to get my novel self-published on Amazon. It's the "Yes, we can" era -- right?
It's been pedal to the metal this week getting "Passion & Peril" ready to upload. Jim finished proofreading and I'm nearly finished tweaking. Typos and ungainly sentences will probably still lurk but that's show biz.
Last night I reserved a domain name: PassionAndPeril.com. I can do a little companion site to the novel, with maps and a few of our photos from our actual trip through Central Asia in 1992. I'm so much better at tweaking sentences than marketing -- but I do crave an audience.
Chipping away at the cover art.
Roadtrip 2008. Using Blurb, I put together a 7 x 7 20-page book about our vacation. It arrived this week. WOW! I was blown away by how beautiful the photos were reproduced. Great show-and-tell. Now I'm psyched about doing more.
Social. Enjoyed Monday night at Maria's with B.O.R.E.D., celebrating my birthday.
<<<Last Update | Next Update>>>