mad in pursuit notebook
DISPATCHED FROM THE CROSSROADS
Cover Art: Playing,2
After 2 exercise days and 2 party evenings, I cocooned myself today, with 3 loads of laundry and my studies of Adobe CS4 software. The ground is covered with snow.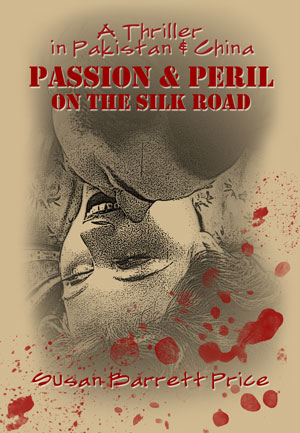 I did poke around with version 2 (right) of my cover. I almost abandoned the illustration (version 1 above), then didn't. Hmm... I forgot to rouge her cheeks in this version. Maybe I should put a little hair back in. Decisions, decisions.
And I tackled the hardest part, writing a brief description for the back cover (and for the Amazon page). My first attempt:
Murder in Manhattan leads to high-stakes drama in Central Asia— In the mountain towns of tribal Pakistan, where honor killings are a way of life. And along the desert routes of western China, where antiquities smuggling is a capital offense. Art dealers Taylor Jackson and Nellie Mackenzie find themselves at opposite ends of this ancient route. Death haunts every turn. In this stunning international thriller, will justice prevail? Or will the meaning of justice be muddied forever?
Needs just the right code words to match up with the right readers.
11.19.2008