DISPATCHED FROM THE CROSSROADS, AT THE INTERSECTION OF yesterday & tomorrow
mad in pursuit journal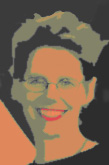 MANIFESTO: TELL STUNNING STORIES. Dial up the volume of my voice; take risks; make it impeccable.
Visit our STORE.
11.16.08: What I've Been Doing
Post vacation energy surge!
Ebay. Store open. Sales dribbling in. Transferred a couple things to auction yesterday. Not ambious here, but could use the dough -- for Dell inkjet cartridges (ouch) and to upgrade all my Adobe software to their Master Suite (what a ripoff).
Post-vacation. Organized and put away all my travel stuff... well, just a pile or two left. Stack of totally inspirational gallery cards and brochures I don't know how to organize. The trip book I put together last weekend is on its way back from Blurb. Can't wait to see how it turns out.
Writing project. With all my visual inspiration percolating, I launched into a project to self-publish "Passion & Peril on the Silk Road" (title may vary!) on Amazon, using their print-on-demand service. Lots of polishing needed as I poured the draft into Adobe InDesign. InDesign is one of those damn programs I can't manage without a manual at my side. The upgrade (due here next week) is supposed to be better-behaved with long documents. We'll see.
Non-work. Health tests: cholesterol, thyroid - A-OK. Haircut. Back to yoga, but slacked off due to writing obsession (and too rainy for a walk I tell myself). Back to 20-minute meditations. Grocery shopping and soup-making. Bird-feeding, till someone stole our bird-feeders! (I suspect it might be the Condo Association.) We caught up with Season 2 of "30 Rock" and are watching a 3-Part BBC mini-series about the Irish Famine ("Hanging Gale"). Tonight one of my mother's recommendations: "The Wind that Shakes the Barley," also about Irish history. Basking in Obama's victory, but not looking at my 401K statements.
<<<Last Update | Next Update>>>