mad in pursuit notebook
DISPATCHED FROM THE CROSSROADS
Plains, Days 24-26: Grand Finale
Our roadtrip was timed to hit its crescendo at St Louis - to celebrate my 60th birthday with my family.
Of course, the occasion also celebrates my mom's 60 years of motherhood. I had some time with her by myself in my first 3 years, but (come to think of it) Tom, Ellen, and Kathleen never had a time when I wasn't the Big Sister, dominant in my loving, inspirational, impatient and/or haughty way (though they have each managed to make their own creative mark in the world that grew right from their own souls).
Anyway, we lounged around at my mom's on Halloween night, finally entertained by my 3-year-old grand-niece Bree in her bee outfit.
Saturday Ellen took me (with Jim and Mom in tow) on a sentimental journey to our old high school (now a part of St. Louis University). The door was unlocked so the two of us prowled the halls, running into the ghosts of our teenage lives. We also checked out the exhibit at the Museum for Contemporary Religious Art across the street, where they had a show "In Pursuit of the Spirit." Ellen knows I love that stuff.
Saturday night was our family dinner -- how rarely do we 4 siblings ever get together to break bread and share our adult lives? My friend Pat provided the "isn't Susan wonderful!" spark with her amazing book of all the graphics I did for her way back in the Breathless Eighties. (Great to have her phone call too.) My nephew Bob came home from college just for the occasion -- another person making me feel special. After dinner we went back to my mom's and sat around the kitchen table blabbing on and on.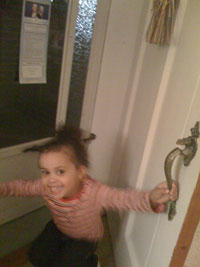 As if we didn't have enough of galleries, on Sunday morning Jim and I scooted over to the St Louis Art Museum for its show on Action/Abstraction -- an extravaganza of color and energy.
Sunday afternoon and evening was just hanging out time -- snacking, getting Ted Drewes frozen custard. More family, including nieces Molly and Becky. Kathleen gave me sock-monkey PJs (which I wore to the election night coverage -- now they are my lucky PJs). Becky's Bree had too much chocolate birthday cake and zoomed around like a little tornado. We played with my iPhone: music, photos, doodles...
Days 27 and 28 were spent pedal-to-the-metal on the highway home, anxious about the election...
11.5.2008