Day 9: Taos NM to Santa Fe NM
16 Oct 2008 --Ahhh… we are sitting in our little casita in Santa Fe – two rooms with a kitchenette and fireplace. The fire is roaring and we're listening to "Johnny Whitehorse," a CD of "totemic flute chants."  Dinner in our bellies, fresh chocolate chip cookies anticipated, and (for me) a little wine in the bloodstream. We got the CD in the Indian Pueblo outside of Taos… but I'm getting ahead of myself.
We decided we didn't want to get to Santa Fe "too early." It's only about 70 miles south of Taos and we will be here for a week. So we started out the day with the Enchanted Circle scenic drive around greater Taos. It got a little foggy for a few miles, but otherwise it fulfilled its promise of mountain vistas. (See photo of Red River, NM.)
Then we circled back to the outskirts of Taos to visit the Millicent Rogers Museum – lots of indigenous pots and jewelry and a great exhibition of modern "saints" painted in the style of Russian icons by Father William Hart McNichols. We loved his style and I guess what you'd call his old-time liberal theology. It brought me back to the day when I was a fan of the Berrigan brothers – when being Catholic meant being a little nutty about social justice (and not having to be called a "domestic terrorist").
Then – a major culture switch: to the Taos Pueblo, where native New Mexicans have continuously inhabited the same adobe dwellings for over a thousand years (fresh coat of adobe every year, of course). We enjoyed meandering around. Bought the CD we're listening to now by Grammy-winning Robert Mirabal. Ate fried bread at a little stand. Took lots of photos. (Photo above)
Back on the road to Hacienda de Los Martinez – an old-style home from about 1804, with room restored as much as possible with the old furniture and artifact.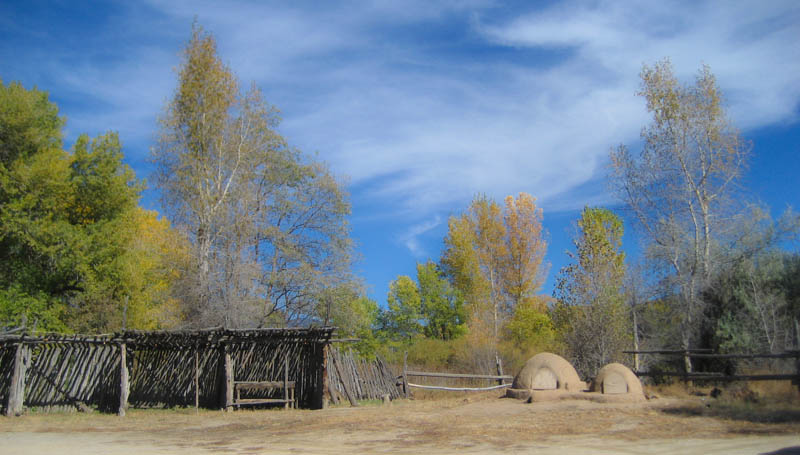 Okay – ready for Santa Fe. Oh, jeez, it was the longest 70 miles we ever drove. Awesome scenery of course and we took photos along the Rio Grande. But we finally blurred over. Would Santa Fe EVER appear????? Even though we were on a highway now, every mile took forever to traverse.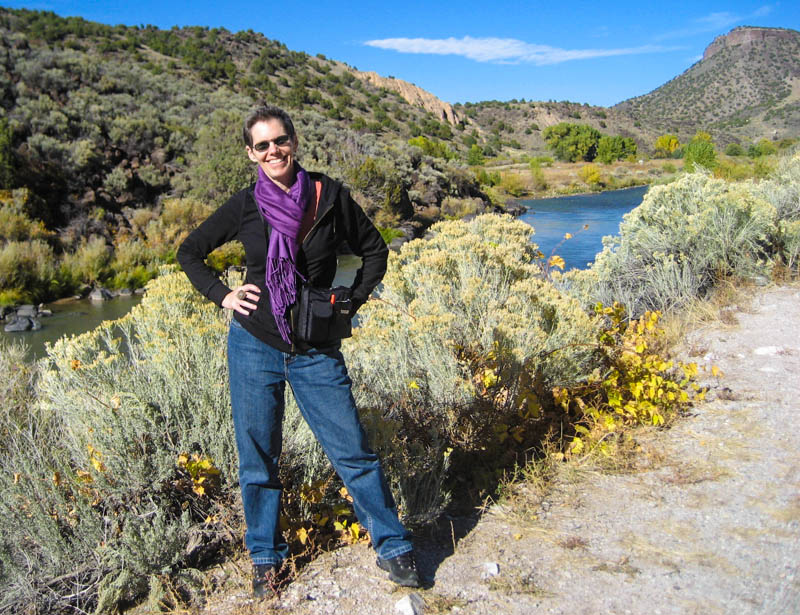 With great aplomb (impressed Jim, anyway), I used my iPhone GPS to hone us right in on Las Palomas. We barely absorbed our check-in instructions, but once we saw our beautiful little apartment, our spirits soared. Home! Yes, yes, yes!!!
If we'd had food we wouldn't have budged. But we managed to trudge down the street to a Thai restaurant. More ahhs.
Now music, fire. Me blogging. Jim studying Santa Fe guides. What a day.