Day 7: Taos
14 Oct 2008 -- Rainy and cold. With umbrellas open, we trod off to see art. Oops, an hour too early. Nothing opens till 10, so we sat in a cafe drinking Starbucks and sharing a blueberry muffin.
Taos is intensely about art – expressionist landscapes of the early 20th c giving way to the brilliant colors and wacky whimsical imagination of mid to late 20th century. New Mexican light and landscape + Native American + Mexican Catholicism + Modernism = a feast for my eyes. I tried to study and absorb as much as I could as we went along, hoping to absorb some magic into my own frail art.
We walked and walked. Even with a lunch stop, we could barely trudge another step by 3 o'clock. And we haven't seen a fraction of the galleries.
We're back from dinner now, a little bleary-eyed.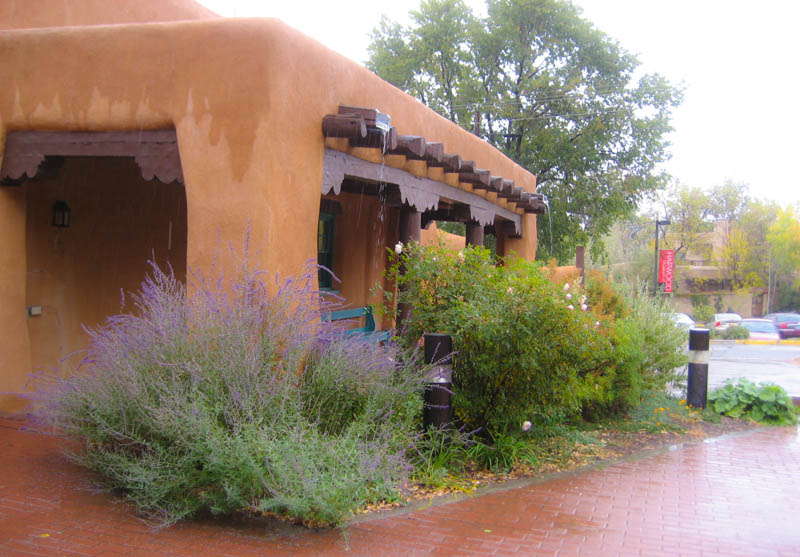 From my handwritten journal:
After 6 day we are settled in one place for 3 nights. Tiny room but with a "kiva" gas fireplace that provides a hearth -- warms us, lights the night. Two big Taos chairs to nest in. This word "Taos" and "Taos style" has always been with me -- since high school... Why? And here I am. I can see now what Ithaca NY would like to go for -- a beautiful cooperative arts community. But it's competitive too -- the annual arts show is limited to those artists who have lived here for a certain number of years.
A Plan B springs to mind: load the car with Western photos, beads, precolumbian, navaho rugs and head out here in high season for a "trunk show." I wonder what the economy is -- rich tourists or only a communion of artistic types who live off the ski season.
Reading: Blood and Thunder by Hampton Sides. Much about Kit Carson, who was from Missouri, and based here in Taos. The book mentions that, by design, the Navahos never completed anything, whether a basket, a blanket, a story or a song. They didn't want an artifact to be too closed-ended or too perfect -- a definitive ending cramped the spirt of the creator and sapped the life from the art. They left gaps and imperfections, deliberate lacunae that kept things alive for another day. To them comprehensiveness was tantamount to suffocation. Aesthetically and literally, Navahos always left themselves a way out -- a "spirit outlet."