Day 5: La Junta CO - Salida CO (183 mi)
12 Oct 2008 -- Today we made the transition between high plains and mountains. We drove from La Junta to Cañon City, Colorado (getting twisted around onto a scary railroad dead-end before we found the right route through Pueblo). Prairies = serene. Mountains = edgy. We arrived in Cañon City with a view of the Rockies and snowcapped Pikes Peak, but wondered "what now?" Cañon City looked like kind of a strip mall atrocity, not the cozy mountain hideaway we were ready for.
We had to find our way to the "real" Main Street, with a local coffee shop, and order a second breakfast to reorient ourselves. Royal Gorge seemed like a must… but then we would push on up the mountains to Salida.
We spent most of the day at Royal Gorge (about 6400 ft high) – wow – with one of the longest old suspension bridges across. We did the little train ride for a panoramic view, took the aerial tram for a thrill, walked the suspension bridge for lots of photos, and took "the world's deepest incline railway" to the bottom to see the Arkansas River and the railroad tracks. Luckily the sun was shining after last night's drenching.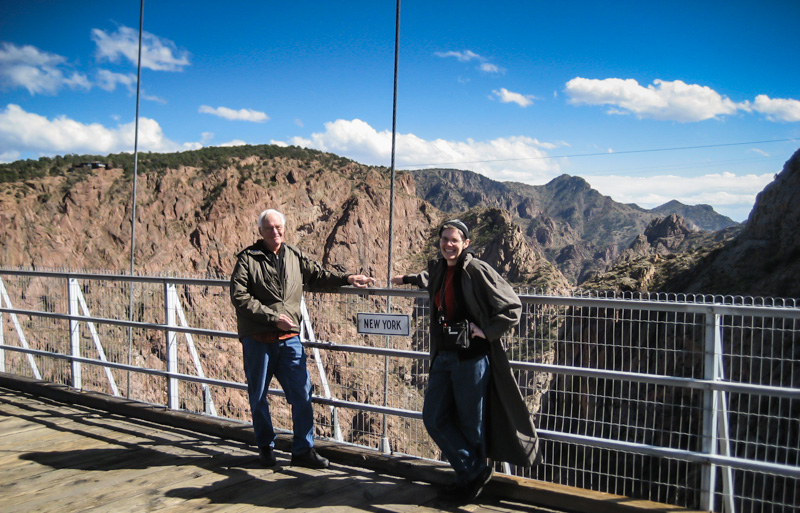 The drive to Salida in the late afternoon was picture perfect – a classic vision of mountains near and far, railroad tracks and the legendary Arkansas River. But we were done with photos – just soaked in the beauty.
Salida is located in a 7000-ft valley, just about 50 miles from the Continental Divide. It's a white-water rafting center in summer, but quiet this time of year, before the ski season starts. It's commercial but lovely. We can see the near-full moon out our window.