DISPATCHED FROM THE CROSSROADS, AT THE INTERSECTION OF yesterday & tomorrow
mad in pursuit journal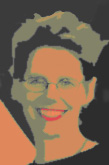 MANIFESTO: TELL STUNNING STORIES. Dial up the volume of my voice; take risks; make it impeccable.
Visit our STORE.
10.4.08: What I've Been Doing
Where did this week go? It seems like a repeat of last week.
Watched too much TV -- between debate run-up, debate, and financial meltdowns/rescues. I want people smarter than me to figure a way out of the corruption and greed... why do some people still seem to prefer congenial idiots in leadership positions???
Trip Prep. Bought cold-weather boots, turned on the furnace and changed the filter, and more or less cleaned house in preparation for our departure on Wed. Alison and Joanne dropped by last night so that was also a good excuse to do some much needed dusting. I made a couple more hotel reservations and organized our maps and tour books into a box. Jim and I are both making lists.
*
Today Maria and I did our last early morning Public Market excursion of the season. It was still dark... and cold! I didn't buy anything but a cappucino. Beautiful sunrise as we headed home.