DISPATCHED FROM THE CROSSROADS, AT THE INTERSECTION OF yesterday & tomorrow
mad in pursuit journal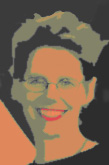 MANIFESTO: TELL STUNNING STORIES. Dial up the volume of my voice; take risks; make it impeccable.
Visit our STORE.
9.27.08: What I've Been Doing
I've gotten a lot of practical things accomplished, so I'm shifting my focus back to creative endeavors and to "modernizing" my website for improved interactivity.
Art Life. I did some digital things this week (like a draft of a family crest), but mostly I returned to my roots of paper and colored markers. I love the idea of having an artsy activity while traveling but I also like the idea of traveling light. Mmmm... maybe not "traveling light" since my box of markers is as big as my laptop... but pen to paper is more immediate and more "in the moment" than a forever revisable computer file. Or... maybe a vacation should be about CHANGE, shaking things up a little, getting away from the same-old same-old. Fooling around, not "producing a product."
I'm really enjoying Flickr as a place to meet serious fellow doodlers. Poking around at how others do their visual journals or mind-maps is a great inspiration. This morning I joined a group called "Divine Sisterhood of the Glue Stick."
Website. Figured out how to allow fans and friends to interact better: email subscriptions enabled and a "share" link added. Added a twitter section. (See annotated screen capture below.)
<<<Last Update | Next Update>>>