mad in pursuit notebook
DISPATCHED FROM THE CROSSROADS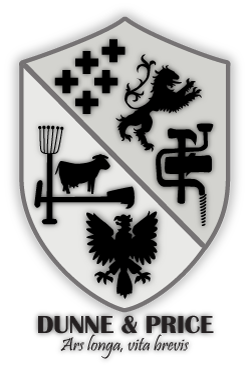 Family Crest 1.0
My Uncle Pat and I have been talking about a combined Dunne-Price family coat-of-arms for a couple years now.
At the September family picnic he gave me his page of sketches. My turn to fiddle.
He provided the shape, the carpenter tools icon (Price), the cow (Dunne). I found and traced the heraldry lion (Price) and eagle (Dunne). And I found pictures of old farmers' tools -- the potato fork and the peat spade to make a farmer icon to parallel his carpenter icon. I added the 5 "St George's crosses" for the 5 families (& also to balance the composition better). Jim had a look. Kathleen had a look.
I'm jumping the gun by posting anything here yet. I sent the materials (color version, elements, etc) back to him yesterday so he can have another turn at rearranging, simplifying, etc. The design has to work before he can carve it and I can play more with colors and effects.
But I couldn't resist playing with a monochrome "outer glow" technique I saw in a magazine ad. I thought the result looked pretty good.
Do we need a motto? The traditional motto for Price is "viva ut vivas" -- "live to live" -- but the Dunne's is something ferocious like "The Dunnes must win." So I stuck in my favorite "ars longa, vita brevis." It was best translated by Chaucer as "Life so short, craft so long to learn."
9.22.2008
COMMENT at the Mad In Pursuit Blog!