mad in pursuit notebook
DISPATCHED FROM THE CROSSROADS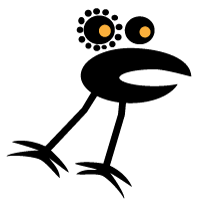 "Collected Works" of Cosmo Radio
I am the architect of my own frustration.
I give the appearance of being organized, but my work is sort of like a fast-growing patch of assorted weeds when I think I'm designing a formal garden.
Planned: upload a bunch of my new audio programs to the Public Radio Exchange (PRX)
Unplanned: "Something changed" this week and I had to go correct the audio player coding on about 20 web pages.
Finding: My audio files and illustrations are filed all over the place.
Action Plan: (1) Get all pieces in the right format for PRX and audio CD. (2) Put all my radio "collected works" on one (attractive) page.
Results: (1) Phew -- everything formated in every possible way and 3 of 9 audio pieces uploaded to PRX. Made an audio CD for my uncle; cover srt in process.
(2) Yay! After two days of driving myself cross-eyed, a new Cosmo Radio page! Each piece has a tiny little player embedded. I may not get any visitors, but at least I can find my own audio. And it turns out to be a nice little gallery of my 2008 illustrations (the lame and the luminous). 7:30 AM Saturday: BOO and BOO-HOO -- now something is wrong with it!!! 9:46 AM Saturday: Took players off bottom row -- the rest seems to work consistently now -- but what is the root cause? Phrase of the day: "Just shoot me." Okay... watching the hurricane should make me count my blessings. 2:06 PM Saturday... Trial and error; trial and error... conclusion: no more than 15 players per page... so, page 2 added. Bleh. Wine time.
9.13.2008