DISPATCHED FROM THE CROSSROADS, AT THE INTERSECTION OF yesterday & tomorrow
mad in pursuit journal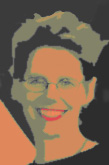 MANIFESTO: TELL STUNNING STORIES. Dial up the volume of my voice; take risks; make it impeccable.
Visit our STORE.
9.10.08: What I've Been Doing
I missed Saturday's review -- so I better catch up with myself.
Maybe it's crazy to drive all the way to St Louis (804 miles) for the weekend, but we've been in the mood for a road trip. (Photo on right: Englewood Ohio... halfway between home and home.)
Arrived in St Louis on Thursday afternoon and began catching up on the family with the ritual First [& Second] Glass of Wine with my mom. Groaned at Republican speeches.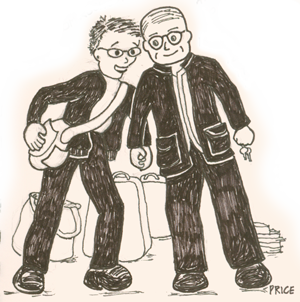 On Friday (after a quick morning walk through the Zoo), Jim, Mom and I took my Uncle Bob's saxophone to visit the new saxophone museum & repair shop on Cherokee Street. We showed it to the front desk guy, told its story, and got a quick valuation. Checked out the museum. Then to lunch at our favorite Irish pub. Back home... checkers with my nephew John and conversations with my sisters and brother.
Saturday was the big Price family picnic. All five families were well-represented. These picnics are wonderfully disorganized. No grills, no smorgasbord dishes-to-share, no planning. Pack a cooler with beer and stop by the sub shop for a sandwich. This family is way more about talking than setting up tables.
I did bring home an assignment from my Uncle Pat, who had sketched out a joint Dunne-Price family coat-of-arms. My turn to play: get it on the computer and simplify it so he can do some carving.
Sunday... oh, hangover. But nevermind that. Jim, Mom and I piled in the car again and visited our magical Castlewood. The little summer-weekend paradise is now squeezed between a state park and St Louis suburbs. But -- tucked in the steep hills and ravines along the edge of the bluffs overlooking the Meramec River -- there are still enough olf clubhouses and oak woods to bring memories flooding back. We found a place where we could walk to the old path (now boardwalked) at the edge of the cliffs, where we could look out over the river and railroad tracks and breath in great gulps of childhood. (Photo from the path on left.)
Sunday night we caught up again with sisters and nephews and made the required trip for frozen custard to the legendary Ted Drewes.
Art life. I had great plans for doodling and note-taking, but only fiddled with the drawing above. Something wrong with her face.
Collections. Sold part of a rare book collection just before we hit the road: "books illustrated with [real] photographs." Getting that packed up and sent is first on our agenda now that we're home.
<<<Last Update | Next Update>>>