DISPATCHED FROM THE CROSSROADS, AT THE INTERSECTION OF yesterday & tomorrow
mad in pursuit journal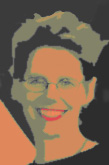 MANIFESTO: TELL STUNNING STORIES. Dial up the volume of my voice; take risks; make it impeccable.
Visit our STORE.
8.16.08: Week in Review
Planet Susan must be orbiting way beyond Pluto. Where the heck is everybody? Am I totally fabricating my own little world? This is why I hate August.
Art life. Oh, well... I'm celebrating my Third Place prize ...
Beginning an audio story about my great-grandmother Ellen.
Vacation plans. Thank goodness for Jim -- my ever-ready adventurer and soul-mate. We're honing in on our October plans on the High Plains. Reserved a week in Santa Fe. Excitement.
Ebay. Slaved away to get another round of items into the store, hoping for some fall sales.
Maria surfaced so we went to the Public Market this morning with our Starbuck's in hand. Soup tonight!