DISPATCHED FROM THE CROSSROADS, AT THE INTERSECTION OF yesterday & tomorrow
mad in pursuit journal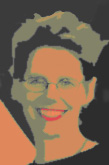 MANIFESTO: TELL STUNNING STORIES. Dial up the volume of my voice; take risks; make it impeccable.
Visit our STORE.
8.9.08: Week in Review
Nice week... social... productive... some practical things accomplished.
Art life. Radio production Wrong Moment for Silence won a prize on :Vocalo radio. The announcement on their homepage:
The winner for "Truth, Dare or Joke #2" was the talented Cosmorochester. Listen to her story responding to the call to "tell a time things were bad and then got worse."
Write of Passage -- another short radio piece -- was finished and uploaded to :Vocalo. Host Jesse responded:
Thanks for continuing to submit your awesome work. I'm adding this to our on-air collection.
The piece was premiered Thursday night on WBEW.
Facebook. I joined -- see yesterday's musings. I'm the one with 0 friends (I did send a pathetic friend request to one of my sisters -- let's see if she accepts). I'm still not sure I "get it" -- you can only find people if you're already connected to them. And then what happens? If I was still in high school it would be way cool, I'm sure.
Vacation plans. I've never traveled in the area between Branson MO and Las Vegas. So, we decided to take an easygoing drive out to Santa Fe NM, then back through St Louis in time for my birthday. I'm just beginning my calculations, so we'll see how it shapes up.