DISPATCHED FROM THE CROSSROADS, AT THE INTERSECTION OF yesterday & tomorrow
mad in pursuit journal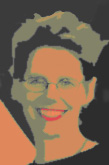 MANIFESTO: TELL STUNNING STORIES. Dial up the volume of my voice; take risks; make it impeccable.
Visit our STORE.
8.2.08: Week in Review
August. Here we are again. The month I never quite know what to do with. Good month to stock up the ebay store for Fall sales (yawn). I did finish a 9-page list of another book collection for sale & sent it to a bookdealer for consideration.
Amid our staycations, I'm thinking about the Art Life...
Art life. A nice week for good feedback from strangers on my little productions:
On Be the Change (video) "I could listen to Miranda talk all day. What a soothing voice of truth. Thank you!" AND "I love this! I like that idea, too! Excellent!" AND "~This is Delicious!~" (from YouTube viewers)
On Wrong Moment for Silence: "Thanks for another great story... Hey, do you do [your] illustrations yourself?" (from :Vocalo radio host Shannon) AND "What a haunting story, and what a profound question. Thanks so much for posting this here!" (from :Vocalo radio host Dan)
On Foul Hook: My Fishing Lesson: "I love the music and your expressions ('foul hook, m-m-mm') in this piece! Awesome stuff. Stay tuned to Vocalo.org because you will hear this soon." (from :Vocalo radio host Navraaz)
On Tell! (video): "gosh. we need a video like this for vocalo!" (from the :Vocalo General Manager Wendy) AND "This is very much aligned with the :V mission. Everyone has a voice--now USE it! BTW, Love LOVE love your work!" (from :Vocalo radio host Darlene)
AND much to my surprise, The Valentine 1955 was chosen to screen at the 7th Annual United Nations Film Festival, at Harvard University in September -- a "traveling" version of the festival held at Stanford U, in California. (This little movie was originally screened at the 3rd UNAFF in California back in 2003.)
Also a great week for getting picked up for "on the air" broadcast at WBEW 89.5 FM (:Vocalo's station in NW Indiana and Chicago's south side): Muhoney: Police Report #3604 (Tuesday on Super AMp; Thu on Midday Mashup). Wrong Moment for Silence (Tue on Midday Mashup AND Night Lite Tuesday; Wed on Midday Mashup AND Vocal Overdrive AND Dark Light Nightly). Foul Hook (Tue on Night Light Tuesday; Thu on Night Team Thursday). Remembering Charlotte, in the Rain (Tue on Night Light Tuesday). These shows get aired again over the weekend. "Muhoney" (about my great uncle Moses) and "Charlotte" (about a girl I knew in grade school) have been picked up for broadcast pretty regularly in recent weeks.
I'm documenting this for a couple of reasons:
(1) Who would have thought my voice would be most appreciated at a radio station whose target audience is young African-Americans and Latinos? Other venues -- like the Public Radio Exchange -- have not been as enthusiastic. Hmmmm...
(2) Where do I go from here? An open-ended question, as I contemplate (in a few months) turning 60 and celebrating the 5th year of "being my own boss."
(Also went to the wake of a former co-worker -- women a year younger than me. Reminder to Seize the Day.)