DISPATCHED FROM THE CROSSROADS, AT THE INTERSECTION OF yesterday & tomorrow
mad in pursuit journal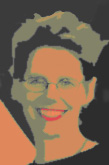 MANIFESTO: TELL STUNNING STORIES. Dial up the volume of my voice; take risks; make it impeccable.
Visit our STORE.
7.26.08: Week in Review
It rained like hell here this week -- that kind of tropical rain that makes you think back on Noah. But I can't remember the last time we had a rainy spell, so I guess we needed it.
Radio. Got two productions DONE and posted to :Vocalo, the tiny radio station in Chicago. Foul Hook is a fishing tale and got put on the air already last night. Wrong Moment for Silence is one of my growing series of "Dreadful Moments." My mother doesn't remember Sister Scholastica pointing out my inability to offer a prayer on behalf of my friend's family -- actually my mother was more disconcerted by the small epidemic of my friends' fathers dying. The piece got a thumbs-up from a couple producers there but it hasn't been assigned to a playlist for broadcast yet.
My YouTube mini-movie "Be the Change" got a boost in views this week -- over 240 now. I count "views" like politicians count poll numbers. How do some videos get thousands of views??? The Facebook and MySpace Generation... I forget what it's like to have a buzzing social network.
Castlewood. A couple of emails from people recalling the old resort area got me writing more about it. I decided to write every detail I could remember about the our family club. Kind of a writing exercise. Kind of a reminder not to forget. And, oh, I get such love from those memories! I need to add some photos now. But funny -- no photos of the interior. I guess nobody bothered to drag along their flash attachments in those days.
Cool. Picked up my iPhone Friday afternoon. A bit of a learning curve (teensy typing with clumsy fingerpads not fingernails), but... WOW.