DISPATCHED FROM THE CROSSROADS, AT THE INTERSECTION OF yesterday & tomorrow
mad in pursuit journal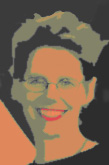 MANIFESTO: TELL STUNNING STORIES. Dial up the volume of my voice; take risks; make it impeccable.
Visit our STORE.
6.14.08: Week in Review
Busy week on Planet Susan.
The "highlight" was Jim's dental work -- implants into jawbone --in all 4 corners of his mouth. Getting through it was a relief... the worst is over. He did manage to swallow the tip of one of their instruments during the procedure, but we're expecting that to emerge at the other end without incident.
Art life. Laboring over animation "walk cycles" with Maddie puppet and Lucy. A glutton for punishment, I'm now on to Miranda, testing out a different technique and altogether different persona. First pass at new walk above.
Collections. Got word from California that some of our 19th c. public health books are beginning to sell. Yay. Got a few more Hollywood photos listed and sold.
Social/fun. Jim's son Eric has come to town for the Rochester Jazz Festival. The Jazz Festival kicked off Friday afternoon with the jazz band from the School of the Arts. We finally got to hear Jim's granddaughter Olivia play her saxophone. What a thrill -- she had a couple of short solos and put her whole body and soul into them.
I'm running off for another early date with Maria at the Public Market...