DISPATCHED FROM THE CROSSROADS, AT THE INTERSECTION OF yesterday & tomorrow
mad in pursuit journal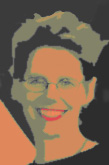 MANIFESTO: TELL STUNNING STORIES. Dial up the volume of my voice; take risks; make it impeccable.
Visit our STORE.
6.7.08: Week in Review
Here we are in June -- a sudden heat wave, a quick switch from heat to AC.
Art life. While pondering the deep metaphysical meaning of Upstate NY, I managed to get my mind around some aerobic dance animation and a radio rant.
Milestone. We finally bought a new mattress! I bought the old one when I left my 1st husband thirty (30!) years ago -- oh, what tales it could tell -- Alexander St, Werner Park, Milrace Dr, Penn Lane. Getting down to the bare foam, permanently dented with our body prints, no more turns or flips left. Ordered Tuesday, arrived on Wednesday -- feels like I've been sleeping in a luxury hotel!
Social/fun. "Sex & the City" -- fun with lipstick and high heels on Sunday afternoon. Ended the week with a trip to the Fairport Canal Days -- one of the biggest summer festivals in the area. We ate Mexican and listened to the Gap Mangione band -- summer!
I'm running off for an early date with Maria at the Public Market...