DISPATCHED FROM THE CROSSROADS, AT THE INTERSECTION OF yesterday & tomorrow
mad in pursuit journal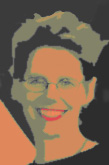 MANIFESTO: TELL STUNNING STORIES. Dial up the volume of my voice; take risks; make it impeccable.
Visit our STORE.
5.3108: Week in Review
Weather is still TOO COOL. We have the birdfeeders going full blast, so we're enjoying the regular visitors. Gardeners hate their woodchucks, but we love ours. He chews up all the tall broadleaf weeds at the woods' edge behind our townhouse, which is encouraging the pretty, thick (periwinkle?) ground cover to grow.
Sales/Possessions. Sold -- bulky old audio equipment, our second giant backpack. Bequeathed -- 170 record albums and their bulky old cabinet loaded into Heidi's car. Mailed -- Pat's turntable to UPS. I love seeing space being cleared out! Gotta get a few more things up this weekend.
Art life. Organizing... organizing... Bursts of interaction with Pat about her website and new ideas. Maybe SPRING CLEANING (see above) is exactly where I need to be, while the ideas percolate.
Social/fun. Road trip on Sat. with Jim to Penn Yan NY -- a pretty little town on Keuka Lake. Keuka Restaurant for A+ grilled tuna and fries (my diner test). Thursday we buzzed by the Greek Festival to pick up some food.
Severe haircut (right)... looks like I've joined the Marines... better wear lipstick and earrings... (hmm... strange similarilty with the woodchuck)
Arranged for Brian to come over to give me a price on new floor and paint for my workshop.