DISPATCHED FROM THE CROSSROADS, AT THE INTERSECTION OF yesterday & tomorrow
mad in pursuit journal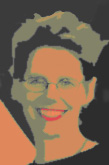 MANIFESTO: TELL STUNNING STORIES. Dial up the volume of my voice; take risks; make it impeccable.
Visit our STORE.
5.24.08: Week in Review
A restless week on Planet Susan... looking for the Next Thing. Spring retreated behind clouds and cold.
Sales. Bored with Hollywood... Got out the Sackett-Mason collection -- overwhelmed by that... Sorted and piled up all our old LPs -- about 170 of them, must go.
Art life. Grumpy that "Tell!" did not win the "One Minute Shift" contest on YouTube. But WOW the movie has been viewed 280 times as of this morning -- not exactly "going viral" but something new for me. Lesson: jump on someone else's bandwagon. But I still need some 5-star ratings on my videos... come on, people!!!
Updated my Cosmopolitan Productions pages -- that took a couple of afternoons...
I want to do some more radio productions, but I have to figure out what. I'm spinning my wheels. I need to follow my own advice and Tell A Story, not give a lecture.
Social. Had a nice long dinner with Ann... salad, bread, wine... at her place. It was our Introverts Subcommittee of the 5-member B.O.R.E.D. -- a time for us two wonks to discuss books, ideas, and political trends, without feeling like wonks.