DISPATCHED FROM THE CROSSROADS, AT THE INTERSECTION OF yesterday & tomorrow
mad in pursuit journal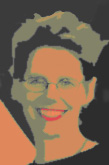 MANIFESTO: TELL STUNNING STORIES. Dial up the volume of my voice; take risks; make it impeccable.
Visit our STORE.
5.10.08: Week in Review
Another busy week on Planet Susan.
Computer. New computer seems to be running well. I'm enjoying the increased speed and ability to do video effects without crashing. Every time I register an Adobe product (including my re-installs), I can sign up for another month at Lynda.Com -- home of great video tutorials. So I've been using it to learn some of the finer points of Vista. I have a wireless keyboard and mouse, which is really excellent (but I guess I better make sure I have batteries on hand when the juice runs out).
Old computer is back from the shop without need for an expensive overhaul. Jim and I set it up in the kitchen (wireless) and I got him a Google account with an iGoogle homepage. He's delighted with all the cool stuff not readily apparent on his computer at work. Of course now something's wrong with the sound -- time to wipe the whole thing out and start over.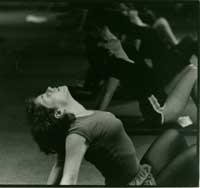 Sales. Processed the results of my 12 auctions. Not everything sold but the broken gold watch was a huge success. Apparently a lot of watch collectors out there. Man, I wish Hollywood fan photos were as coveted.
Art life. Got back to my "One Minute Message" -- jazzed up the visuals a little. Now I'm working on a new soundtrack. For a 1-minute movie, I'm making complete hash out of the sound. Oh, well, it's fun.
Did my writing on the breathless 80s, in 4 parts (so far). Fun to have Pat also working on her own version. Look at this picture I found last night, of myself in an aerobics class -- taken by renowned Rochester photographer Louis Ouzer, circa 1985 (right). Breathless.
Pondering. Metaphysics -- the kind of word you see once in a while but really don't have a clue what it means. Good article in the 5/4/08 New York Times Magazine on Louise Hay "Queen of the New Age." Talked a lot about the "mind/body/spirit" movement and "metaphysical religion." Also had coffee with Maria on Sunday and she was telling me about new developments in neuroscience that validate some alternative healing practices (beyond the power of positive thinking). I vacillate between skepticism and openness. I can see that there is "science" and "beyond science" (metaphysics!) and a fluid area in between, but... but... More on this when I can sort out a concept or two.