DISPATCHED FROM THE CROSSROADS, AT THE INTERSECTION OF yesterday & tomorrow
mad in pursuit journal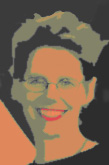 MANIFESTO: TELL STUNNING STORIES. Dial up the volume of my voice; take risks; make it impeccable.
Visit our STORE.
5.3.08: Week in Review
What a week! Where did it start? From busying myself in Hollywood glamour portraits to burying myself in the intricacies of new computer system setup. It's all about process isn't it -- trying to be methodical so that you don't screw it up or have to re-do some boring task you thought you had finished.
Computer. My new computer set-up has gone amazingly well -- with one final mishap. I got to the big switcheroo last evening: putting the new computer in the desktop position of honor and moving the old one to my work table. Now the old one won't boot up. It's mad at me no doubt. A major annoyance -- looks like a trip to the repair shop -- but fortunately I have all my valuables pretty well backed up and/or otherwise available. Grrr...
I switched over to Google's G-Mail for organizing all my email. For years I've been downloading my e-mail to my desktop, so it's great to have my email available now from any computer. With iGoogle as my homepage, I'm becoming quite the Google girl.
Sales. I have 12 auctions going this week. A bunch of odd things -- including one of the backpacks we took to Pakistan in 1992. A gold pocket watch Jim picked up somewhere is getting the most attention. It's missing its bow and doesn't work -- our jeweler was going to charge $500 to fix it -- but with a day left, it has 7 bidders and is up past $250.
Art life. Whew, not much time for creative reflection this week. But Pat gave me some feedback about my "One Minute Message" -- so I'm anxious to get back to it.
Consultation. Spent Sunday afternoon at a meeting conferring over strategies for a friend's small business.
A sign. A bird laid an egg on our front porch railing. No nest. Just an egg perched out on the edge of the railing for all the crows to see. Egg = rebirth and possibilities. Perched on rail = defiance and risk-taking... well, actually poor planning and stupidity. Our egg... wasted possibilities? Message = always try to lay your eggs in a nest.