DISPATCHED FROM THE CROSSROADS, AT THE INTERSECTION OF yesterday & tomorrow
mad in pursuit journal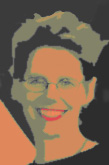 MANIFESTO: TELL STUNNING STORIES. Dial up the volume of my voice; take risks; make it impeccable.
Visit our STORE.
4.26.08: Week in Review
The early part of this lovely spring week was dominated by my GI tract... then back to business. Got our bird feeders going full blast this year... also a feast for the squirrels... and a giant woodchuck... and an occasional deer... and one wild turkey out for a leisurely stroll... The local cats always on the prowl...
Art life. I'm trying to do a little animation to enter a competition: "one minute to deliver your most important message about the world." Not exactly the Cannes Film Festival, but a chance to work on my "voice" mission and a chance to spend some time learning how to animate text in After Effects.
For inspiration we went to hear Susan Orlean, author of "The Orchid Thief." Reminded me what good writing is.
Sales. Dug into our Hollywood photos and spent the better part of two days scanning about 100 8x10 publicity photos (like "Young Frankenstein" to right). Hoping to get a few up for sale this weekend to test the market...
Sale of my camcorder = purchase of new desktop computer. Yay... It won't arrive till after May 6, so I won't have to think about re-installing all my software and expanding my home network till then.
Today's event: the big shoe drive at the Penfield Community Center. Jim and I found about 20 pairs of toe-pinchers we can do without. Ah, closet floor space!