mad in pursuit journal
DISPATCHED FROM THE CROSSROADS
Hollywood Celebrity Photos
Yesterday I got up at 5 AM full determination to dig into a few things. Maybe that "high colonic" energized me after all -- heh, heh...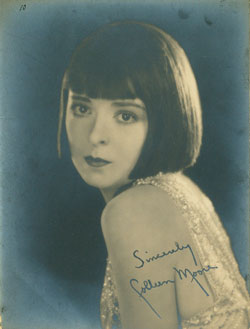 I worked on an art project for a while, then dragged Jim into sorting through our Hollywood photograph collection. They must go! Every once in a while I pour a spurt of energy into getting the 200+ photos organized for sale... but I hit a dead end... or sputter out... and back to a tall stack on my ground floor filing cabinet they go. We tried to sell them as one big collection, but it was too big a chaw for anyone to swallow.
New tack: Sort them by size. Little ones are more common. Cheaper. I'll tackle selling them on Ebay.
I surface from the ground floor study with a manageable stack of 41 8x10s to start scanning.
But here's what ALWAYS HAPPENS in my magic house of plenty: I have a flash of memory, open a cabinet door in our bedroom... and oh. my. god. there is ANOTHER stack of 8x10s!!!!!!!!!!! Including an envelope of 76 Bette Davis fan photos. And is there ANY market for an autographed photo of Dick Powell? Just shoot me.
But I slogged away. Got the first 41 scanned... most of them had to be scanned front and back because there are studio stamps and blurbs on the back to prove they are not modern repros. I removed them all from their oversized mats (nobody wants to pay the shipping) and put them into labeled mylar sleeves. Ah, a neat little stack now.
I also found the black light I've been searching for -- neatly stored in the bin of batteries and "seldom-used devices that need batteries." (Some) photographic paper made after 1953 glows in the dark under a black light. A small print of Clara Bow might be valuable -- unless it lights up like a nuclear meltdown under the black light (damn).
Loaves & fishes. Loaves & fishes. I tend to my flock.
4.25.2008