DISPATCHED FROM THE CROSSROADS, AT THE INTERSECTION OF yesterday & tomorrow
mad in pursuit journal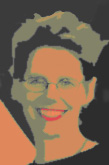 MANIFESTO: TELL STUNNING STORIES. Dial up the volume of my voice; take risks; make it impeccable.
Visit our STORE.
4.19.08: Week in Review
It's National Curly Price Day! Time to contact someone you haven't seen for a while and tell them how great they are — what I've deemed to be the annual ritual in tribute to my father (above), who never forgot a face or name, who was impressed with everyone and who didn't hesitate to tell them so.
*
Art life. I feel like I've spent the week with my index cards spread out before me tying up lose ends, dealing with some annoying web page design issues, and pushing my existing creative "products" to new audiences.
Also explored the whole "click-for-profit" machinery fueling the internet. Surprisingly, it made me question my values -- why am I maintaining Mad In Pursuit? I'm here to express myself. It's my workshop. I want an audience. I love fans. I don't mind being "underwritten" with a few ads (like public television). But I certainly don't want to be an Ad Delivery System for a bunch of quick buck artists.
I downloaded a StumbleUpon toolbar to give myself some thumbs-up. It's a good tool for wandering through the internet. I wouldn't mind attracting some wanderers.
My YouTube Channel -- tell all your friends.
Sales. Sold my big beautiful Panasonic camcorder (bye-bye professional video) and my first professional mini-disc recorder (upgraded to digital!). Onward!
Road trip. We took an excursion out to Braddock's Bay, a legendary fly-way on Lake Ontario where hawks and other raptors do a little feeding before heading to their nesting grounds in Canada. We had great expectations for seeing big birds, but were instead treated to the haunting sounds of bullfrogs among the cat-tails.
Social.
(1) Big
Pat Drum Aerobics reunion
last Saturday. (2) Dropped by Carol and Deb's last night for a couple beers and some girltalk. First time this year able to sit outdoors!