DISPATCHED FROM THE CROSSROADS, AT THE INTERSECTION OF yesterday & tomorrow
mad in pursuit journal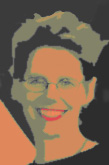 Visit our STORE.
3.22.08: Week in Review
Fantasizing about spring...
art life
Seems like I did nothing but experiment with changing my animation formats from Quicktime to something that would make a gorgeous DVD. And then to get the actual DVD to burn with my new Adobe Encore software on my ancient equipment. I finally just went out and bought a new external DVD burner -- excellent!
Family History
Barrett Brothers Park. The inauguration of the Hip Hop Garden at the St Louis park named for my mom's cousins is happening April 4. They are giving a kind nod to the Barrett family and their history in the neighborhood. I decided to fly down there and be the family spokesperson for our 2 minutes of fame.
There is the possibility of additional coverage by the Historical Society and some local media, so I've written a 2-page family history for the event's media book and am busy straightening out the kinks in my jumble of Barrett family web pages.
Sales
Minor stuff.
Wellbeing
Actually went out on St Patrick's Day... with Italian friends to a French bistro... but who needs the green beer crowd anyway?
MANIFESTO: TELL STUNNING STORIES. Dial up the volume of my voice; take risks; make it impeccable.