DISPATCHED FROM THE CROSSROADS, AT THE INTERSECTION OF yesterday & tomorrow
mad in pursuit journal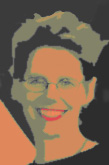 Visit our STORE.
3.15.08: Week in Review
A bustling week on Planet Susan.
Sales
Excitement of the week: total surprise of selling some back-of-the-drawer photos for $710. Puttered away at getting a few more things listed.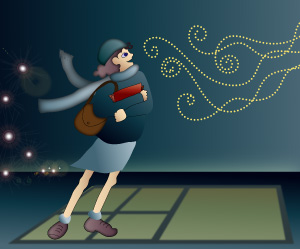 art life
Radio production."Cool, Creative, Kerouac" got surprisingly good reception on :Vocalo from one of the producers.
Uploaded "The Smell of Frying Onions" on Friday. It's a different kind of experiment -- nothing shocking, nothing confessional. Mellow. Pushing myself to finish an audio project also pushes me to do a quick graphic. This one (to the right) really challenged me but I think the result is interesting and a new-ish style for me. Call from Pat this afternoon -- the piece totally swept her back into her own teen years -- gave her an emotional "moment." THAT's what a "stunning" story does.
Animation. Premiered "Great Dames Take Naps" project... finally. Good feedback from lots of people -- what I thrive on! Where to next? Oprah??
Wellbeing
Taxes... done, delivered to accountant... now for the other shoe to drop (what we owe).
Jim and I spent time reorganizing some books and things... engineering some new space and slightly more rational organization. I threw out two big bags of way outdated computer books.
MANIFESTO: TELL STUNNING STORIES. Dial up the volume of my voice; take risks; make it impeccable.