mad in pursuit journal
DISPATCHED FROM THE CROSSROADS
"Great Dames" ... Now What?
The problem with doing a piece of art to express and explore for your own sake: now what?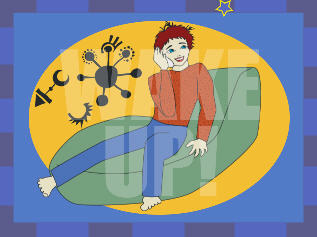 A few people have given me their thumbs up. It was thrilling to have fellow Great Dame Pat D "leap into action" and send me a long e-mail detailing what filled her with joy vs. what little things were distracting* -- as well as a bunch of ideas for how to "make a million" with related product sales.
Joanne said my great dame Maddie had the air of a Power Ranger about her. So -- action figures!
But what is my next step? I need to investigate film festivals for tiny 2-D animations... but I'm sure they are crowded with youngsters learning traditional cel animation from the masters or with computer wizzes who can animate riotous intergalactic kung-fu battles. Whatever I've done, it's "all wrong." It is supposed to be a visual art, where a story can be told without a voiceover telling it to you... and of course I told my story, then struggled with how to illustrate it. So... bite me. Being "all wrong" is really where I want to be. Being "all wrong" means I've listened to my own muse for a change and have broken out of doing what the textbook says I'm supposed to do.
Anyway I'm meeting with 4 girlfriends this evening for our B.O.R.E.D. meeting. I want to show them the movie but I hate making a big production of bringing my laptop. So... I grabbed one of Pat's ideas to put it on a freestanding device, like a digital picture frame. And I'd love an excuse to pick up a video iPod! But... what I have is my Palm TX handheld. It plays Quicktime movies!!!
I re-rendered the piece into a tiny QT format and loaded it up. The sound is tinny out of the TX. But I can hook the TX to my traveling iPod speakers!!! (What's up with this -- all my devices playing nicely with one another???) So... I have a little show ready to go for today. And I can think about "what next" tomorrow.
3.12.2008
* I incorporated a couple of her suggestions quickly into version 2.1.