mad in pursuit journal
DISPATCHED FROM THE CROSSROADS
I Cheated on My Hairdresser!!!
My hair has been growing out since before Christmas. My inner conflict: I'm really tired of the hairdresser who has been cutting and coloring my hair since 1980. I have seen his children grow up and have followed him through at least 7 shops.
He's always had melodrama in his life but in the last couple of years he's turned bitter. He's become kind of a downer -- yammering on about all the people who have done him wrong. But he's also had health problems and surgeries that make me feel a little sorry for him. And he's been nice to me, though I can't say he really became a friend.
But I do run into him once in a while at the grocery store, so if I switch there will be the inevitable confrontation.
What to do... what to do... Meanwhile, Jim and I have been watching all these art documentaries where mature women artists have really shorn heads. Would that look be more chic than my current mop? Or should I grow it a little more and aim for a bob?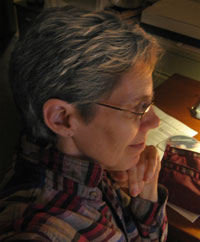 Yesterday afternoon the sun was shining and I thought what the hell. Hopped in the car and drove across to the "Walk-Ins Welcome" at the strip mall. "Cut it short!" I said to the young hairdresser I'd never met.
Snip. Snip.
Anyway, I didn't quite get a crew cut but it's short. And it was only $26 versus the $70 I usually spend.
There is still a lot of blond, but also about an inch of untreated roots. I was expecting to look a little more salt-and-peppery but it's not bad. But Lordy, the years are taking their toll!
3.7.2008