DISPATCHED FROM THE CROSSROADS, AT THE INTERSECTION OF yesterday & tomorrow
mad in pursuit journal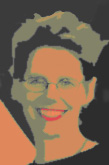 Visit our STORE.
3.1.08: Week in Review
March 1! Can Spring be far away? You'd never know it with our single-digit temps. Now more snow. The time of year here where your eyes forget what color is.
Sales
Auctions up this week... offering some more US West photos to a dealer in California... plugging away with stocking my store.
art life
Radio production. Uploaded "Old Green River" (is it ever too early to think about St. Paddy's Day?) and "War Rug: What Little Girls Do" to :Vocalo.
:Vocalo -- 7 of my pieces are posted to their site, picked up so far in 11 producers' playlists, for broadcast/webcast on that Chicago station. "We're so glad you're here, and we enjoy playing your work," wrote one of the producers. "Thanks for all the great content you're uploaded and for your enthusiasm." I need so little to keep me motivated.
Animation. Trying to incorporate my doodads and doodles into "Great Dames Take Naps." I'm just beyond my skill level.
Figure Drawing. Dropped the class. Nothing against naked men or learning to draw accurately. Just not taking me in the direction I need to go. The results are Objective and Realistic. I want Subjective and Expressive.
Wellbeing
Cable guy back. Gave us cool HD cable boxes and we are getting our HBO and Showtime On-Demand. Yay. My upstairs TV can now get High Definition channels, but... yawn.
Publishing via my Dreamweaver software suddenly went wacky on me. This does not help cabin fever.
Car in the shop. Tire issues became brake issues... $550.
MANIFESTO: TELL STUNNING STORIES. Dial up the volume of my voice; take risks; make it impeccable.