DISPATCHED FROM THE CROSSROADS, AT THE INTERSECTION OF yesterday & tomorrow
mad in pursuit journal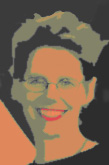 Visit our STORE.
2.23.08: Week in Review
Cozy indoor week on Planet Susan, with only a few moments of cabin fever.
Sales
Thursday: my labor of love -- posting baseball cards from my brother's collection. Wish I knew more... wish they were worth more...
art life
Radio production. Thinking about St. Patrick's Day productions -- labored over "Old Green River," which is not Irish per se, but part of the Irish me.
:Vocalo Got onto 4 more playlists (8 altogether now) for broadcast/webcast on that Chicago station. Good. But a website for a radio elites rejected my work... snobs.
Re-recorded "Remembering Charlotte," this time dropping the artifice of two voices. It is still an odd little production but I have to keep working on these things or I'll never improve.
Trying to brainstorm some new mini-projects to keep up the momentum.
Animation. After braining up on surrealist artist Joan Miro, I was inspired to get back into my "Great Dames" animation and to try a few of his tricks. This project has now become like my garden, where I can go now and then to cultivate and prune.
Road trip
Sunday we took a drive over to the Albright-Knox Gallery in Buffalo -- a pretty famous Modern art museum where I have found inspiration in the past. But main show was on color -- not enough Matisse and way too many exhibits of plain canvasas that could have been painted with a roller and gallon of house paint. We got some good laughs off them. And we had a great lunch in the museum restaurant.
Wellbeing
The world may be crumbling, the icecaps melting, but my damn cable channels keeps pixelating on me. We had the cable guy out. New cable into the house. Now we try HBO OnDemand and the system keeps crashing and delivering dire error messages. Cable guy coming back this afternoon.
MANIFESTO: TELL STUNNING STORIES. Dial up the volume of my voice; take risks; make it impeccable.