DISPATCHED FROM THE CROSSROADS, AT THE INTERSECTION OF yesterday & tomorrow
mad in pursuit journal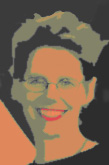 Visit our STORE.
2.16.08: Week in Review
The week zoomed by... not much to show for it.
Sales
Listed an auction on Sunday for a set of 29 1986 Champion NY Mets cards. Not even one nibble yet. What's up with that??
Bookseller in California slowly getting our public health book collection ready for sale. Our photo dealer in San Diego finally sent us a check for the set of photos he sold for us. I'm hoping that there are some bazillionaires out there who are mistrusting the stock market so want to buy some nice 19th c. collectibles.
art life
Radio production. Trying to keep up the pace of at least one little production each week. This week: Confessions of a Mean Girl. Uploaded it to :Vocalo and got air time almost immediately. Altogether my pieces have caught the attention of four different playlist producers for broadcast/webcast on that Chicago station: :: Ayana and Dan: Getting Involved :: It's Valentine's Day with Brobin :: Jesse and Luis and :: Top Stories.
Valentine 1955 (radio). Got licensed* for play at WAMC Albany, NY.
Others. Paused my 1940s home-recording project to let the cacaphony settle. Re-opened my Great Dames animation project. Opened a sound project about "Old Green River" in anticipation of St. Patrick's Day. Gotta think up another couple Irish themes.
Wellbeing
Mammogram -- okey-dokey. Next up: 5-year colonscopy in April.
Family history
Thrilled to hear that my mom and sister met with the folks planning to revitalize and rededicate Barrett Brothers Park in north St. Louis.