DISPATCHED FROM THE CROSSROADS, AT THE INTERSECTION OF yesterday & tomorrow
mad in pursuit journal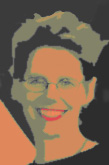 Visit our STORE.
2.09.08: Week in Review
A chilly, icy week on Planet Susan... Sound of gears grinding... wheels spinning...
sales
Hmm... I'm much more motivated to do creative work...
Technical
Broke down and purchased Adobe's sound editing software Audition. Nothing like learning new software to make me simultaneously excited and grumpy.
art life
Radio production. Continued working on Take 3 of my mom's family vs. the War. I wrote a little script, but then discovered a recorded interview we did with my mom 3 or 4 years ago. Holy cow. I listened to the half hour and got all emotional. No need for me to write a thing. She tells the whole story. But now I'm in patchwork hell -- trying to piece together a powerful story from the interview and from snippets of sound from the 1940s... using the new software. One of those thing where you just have to keep plugging away till the breakthrough breaks and the flow starts flowing.
Decided to grant myself an interlude: found a Mad In Pursuit memoir entry that would make an interesting little piece without complications. Maybe I'll get that done this weekend.
Revised the audio version of Valentine 1955 and posted it on :Vocalo. The older version got licensed* for play at WNCU, the radio station at North Carolina Central University (Durham). A repeat customer!
Figure Drawing Class. Skipped it this week... some flimsy excuse... even with my new set of Conte crayons, I can't decide if this is taking me in the direction I want to go.
Social
Old friend Nora stopped by for dinner on Wednesday. Skiing with the girls on Thursday.