DISPATCHED FROM THE CROSSROADS, AT THE INTERSECTION OF yesterday & tomorrow
mad in pursuit journal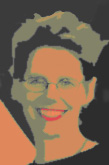 Visit our STORE.
2.02.08: Week in Review
Oh, by yesterday I had to excavate my way to the bottom of my work table. Too many things started, too few finished.
sales
One of the projects strewn across my table. Started scanning stuff -- 165 scans so far -- need to get through my current stack before I start listing and selling.
Technical
Figuring out how to put a Flash Audio player on my pages. Did it with one, but couldn't do it again. Grrr... Oh, well, here's another little one to the right*... we'll see how this works (let me know if you have trouble, esp. with Internet Explorer). Forcing me to know more than I care to about coding.
Figuring out how to have a page print in a good print format, without the ads and web paraphernalia. Got it to work, but needs a little code change on each of the pages I want to apply it to. Dogswork.
Family history
Currans. The 86-year-old nephew of my (step-) grandfather surfaced with his grandson in Las Vegas. Got me updating the Curran page. Posted an MP3 of my grandad Ewald singing "Down By the Old Mill Stream" with his friend Joe Foley -- from a Valentine's Day party in 1944. Press the PLAY button above to hear it.
Barretts. Burst of interest in Barrett Brothers Park got me revising the page about the Barrett Family war-dead, with excursions into the ancestry.com military archives.
art life
Started working on Take 3 of my mom's family vs. the war. Made a little progress, taking it slow.
Figure Drawing Class. Better... So much else to do... why? But I like buying the supplies.
Radio production. Got some enthusiastic feedback around "Muhoney," (it doesn't take much to set me abuzz), so I went ahead and posted it on PRX (Public Radio Exchange). Good coaching and inspiration from Pat D. this week.
Popularity
Gave up my "thumbs up" link... sure, I was number 3 in the "diarist" universe but apparently that cosmos has shrunk into a black hole -- no updates to their website in years. I'm looking at other popularity venues, just for fun. Stay tuned...
MANIFESTO: TELL STUNNING STORIES. Dial up the volume of my voice; take risks; make it impeccable.
*Downloaded free from Eric Zhang