DISPATCHED FROM THE CROSSROADS, AT THE INTERSECTION OF yesterday & tomorrow
mad in pursuit journal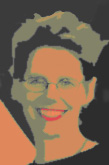 Visit our STORE.
1.26.08: Week in Review
Cold week here. Quiet. Productive. Nice.
sales
Bleh... Good sale got damaged in the mail. Have to return $95.
art life
Put aside my "Great Dames Take Naps" animation project while I pursued radio for the week.
Figure Drawing. Seemed less capable than I was in week 1. Decided I better do a little practice between classes...
Radio production. Threw myself into the fray of the edgy new Chicago radio station :Vocalo. I signed up, wrote my profile and posted "Respectacle." On a roll, I finished up and posted my old "Charlotte" project. Then I tried something new and different with "Muhoney," which I'll probably post this weekend. Being on the ground floor of "listener generated" radio is motivating for the moment -- a way to find my voice and perhaps even to find an audience.
MANIFESTO: TELL STUNNING STORIES. Dial up the volume of my voice; take risks; make it impeccable.