DISPATCHED FROM THE CROSSROADS, AT THE INTERSECTION OF yesterday & tomorrow
mad in pursuit journal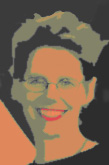 Visit our STORE.
1.19.08: Week in Review
Whew. A whirlwind week.
Travel
1200 miles by interstate, from Daytona Florida.
real life
Getting cuddled up for the long winter months ahead. Pot of soup on the stove. Back to yoga class. Back to zazen meditations. Forcing myself to toughen up to the cold so I don't wimp out on doing some walking.
sales
Woke up my ebay store. Made a few sales. Back to the packing and shipping routine. Now must gear up to post new store items.
art life
Posted some art work for fellow artisan Lesley to use in her marketing productions.
Started revisions of animation "Great Dames Take Naps." Managed to get myself totally frustrated.
Started Figure Drawing class at the local art museum. Interesting way to meditate on exactly what is, instead of being "creative" or conceptual.
Invitation to submit work to a new experiment in radio got me all fired up again about audio production and storytelling without pictures.
Above right, my latest manifesto... with lessons learned from watching "Project Runway."