mad in pursuit journal
DISPATCHED FROM THE CROSSROADS
Artisans United (Florida, 2)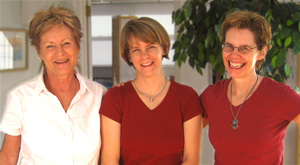 We went to Florida [see Part 1] so that I could work with Pat and Lesley. But it's really hard to separate "work" from "pleasure" for this group.
Here were 3 women, ages 65, 38 and 59, sitting around a table for 2 and a half days with our laptops, our notebooks, our colored pens and paper, scheming, designing, brainstorming, problem-solving, critiquing. Giving and receiving. Teaching and learning. No ego games. No scorecards.
Pat: exercise choreographer; small business entrepreneur; video producer; family history researcher and scrapbooker. Lesley: architect; software developer; community-information and work-process problem-solver. Susan: strategist; web, video and audio producer; writer; family history researcher and writer; collections curator. We all three love creating and love a job well done.*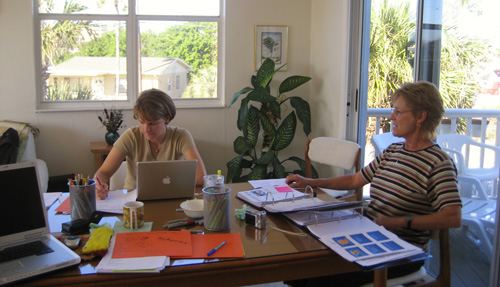 Does it get any better than this?
Our main task was to combine our skills to launch Lesley's software development business. But we also dove into some of my video work (with Jim's help too). And, after Lesley went home, Jim and I had a lot to say about Pat's Alaska video and her family history albums (mostly... WOW!).
The gathering seemed less like a one-way consultation and more like an art group or a virtual art colony.
Some art colonies are organized and planned, while others arise because some artists like to congregate, finding fellowship and inspiration -- and constructive competition -- in the company of other artists.
Pat and I had talked briefly about collaborating on a project, but we both have a mountain of our own projects to finish. So why not be more like the Algonquin Round Table -- inspiring and agitating one another? When Lesley heard about it, she was in.
As I walked along the beach one morning, thinking about this group, I remembered the Circle of Courage -- a Native American construct used by the Reclaiming Youth Network. Positive youth development is not our aim, but maybe "positive art-life development" is. Their 4 guiding principles stick in my mind: Belonging, Mastery, Independence, and Generosity.
1.15.2008
Thumbs Up if you liked this entry.
Drop me a line!
* And we support Hillary!