mad in pursuit journal
DISPATCHED FROM THE CROSSROADS
Back from Florida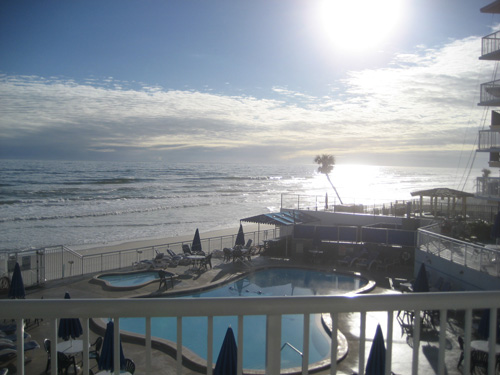 This was the view out our window for the past week: Daytona Beach, Florida. If there was ever an incentive to wake up early, sunrise over the Atlantic is it.
Although we were warned that Daytona in January is cold, nature smiled on us Yanks as the temp rose to a sunny 75-80 every day. Morning walks along the beach, no soundtrack needed. My hair curled and my chapped lips were healed. Even dipped myself into the heated pool.
But, alas, we are back in gray New York State. There is much to report, but this morning I'm taking it easy. We were going to take 3 days to drive the 1200 miles home* but were infected with highway fever and made it in 2 -- so, ahhhhh.... I'm just enjoying home, sweet home.
[Florida continued]
1.13.2008
Thumbs Up if you liked this entry.
Drop me a line!
*My original info said it was only 980 miles to Daytona from Rochester. Imagine my surprise on the way down -- at the 600 mile mark -- to figure out that we were only halfway. Duh. Don't believe everything the internet tells you.