mad in pursuit journal
DISPATCHED FROM THE CROSSROADS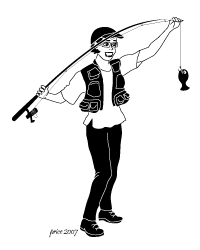 Hemingway on the Towpath
The other night I was bragging to Heidi and her family that I'd gotten a fishing column published last summer in "The Canal Times." Naturally, her people clamored to see them. But... where are they?
You can ferret them out with a couple searches on The Canal Times website, but I decided to pull the 5 columns together on my own website. Earlier versions are already posted here under the "Babes In Boyland" title. I hate to lose these long-winded versions, so I put up separate links to the "Fish Tales from the Towpath" series (shorter, bigger print).
These were fun to do.
1.3.2008
Thumbs Up if you liked this entry.
Drop me a line!